Virgin Galactic Stock Price Moves Higher On Announcing New CEO
Last week, when Virgin Galactic (SPCE) announced it would be replacing its CEO, the company sent a clear signal that it will be moving from a novel "spaceship company" to a company focused on making money.
The Sir Richard Branson-backed Virgin Galactic is scheduled to launch its first paying passengers into space later this year, and begin monetizing the technology that was born when Burt Ruritan, and his company Scaled Composites, won the Ansari X Prize in 2004.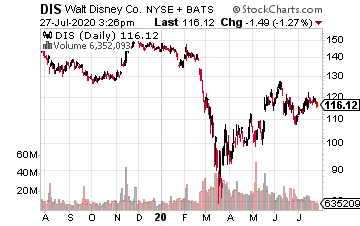 With the hiring of former Disney (DIS) executive Michael Colglazier, Virgin Galactic is clearly pivoting from a technology development company to one with commercial footing.
Speaking on the hiring of Mr. Colglazier, former CEO, and now Chief Space Officer, George Whitesides, said: "The next decade for Virgin Galactic will be commercially-focused, and it is the perfect moment for us to bring a visionary commercial leader like Michael to take the Company forward."
The market applauded the move, with Virgin Galactic stock moving higher, eventually breaking out of the trading range the stock had been in since early April of this year.
As COVID-19 vaccines appear to be getting closer and closer, we can begin to anticipate a day, likely sometime next year, that we'll once again be looking for entertainment outside of the house.
I think you could do worse than picking up some entertainment companies, like Virgin Galactic on the high end of the entertainment spectrum, or Disney on the lower end.
As I said above, Virgin Galactic is still targeting its first commercial launch for later this year, but with no exact date yet. Mr. Branson is scheduled to be on that first flight as well.
The company is looking to monetize its suborbital commercial tourism business, which it has been selling tickets at $250,000 a pop. And that is why Mr. Colglazier, who most recently ran Disney Parks International, has been brought into the fold.
I like both the addition of Mr. Colglazier and the transferring of Mr. Whitesides to the space side of things. Whitesides will work on the next phase of the company's growth: point-to-point hypersonic travel and orbital space travel.
Disclosure: Information contained in this article and its websites maintained by Investors Alley Corp. ("Investors Alley") are provided for educational purposes only and are neither an ...
more