US Equities: Mixed Signals, Inflation, Waiting Game
The June E-Mini S&P 500 futures contract traded well early yesterday morning before the cash open. Cash traders, however, had different ideas when the opening bell rang in New York.
The June E mini S&P 500 (ESM2021) traded as high as 4230.00 right at 9:31 AM yesterday (June 1) as cash trading began. Traders were waiting on the PMI data release at 10:00 AM. Sellers came into the market right at the cash open, selling it down to 4213.00 in the minutes leading up to the data print. The data signaled inflation once again, with the PMI data printing 62.1, above market expectations of 61.5, and above the last measure of 61.5. Inflation became a concern here. Will the Fed eventually raise their overnight Fed Funds Rate? Will yields rise? This data print created uncertainty in the market, and the ESM2021 settled around 4199.75 at 4:15 PM ET yesterday.
This type of price action came as no surprise to me, as the prevailing macro theme of this week seems to revolve around Friday's Non-Farm Payroll data. As mentioned yesterday, I view this type of trading week as "sideways trading in a wide range in the SPX, until the market gets a read on the NFP data." Let's see how this plays out heading into Friday.
The Cash SPX settled almost flat, giving up 2.09 points (-0.05%) on the day. That's what I would call sideways. The VIX, however, tacked on 6.80%, furthering the potential of yesterday's weekly outlook for volatility to get bid up this week, as the market waits for Friday's jobs number. S&P 500 options implied volatilities got more expensive, with the uncertainty of Friday's jobs number being a partial contributor.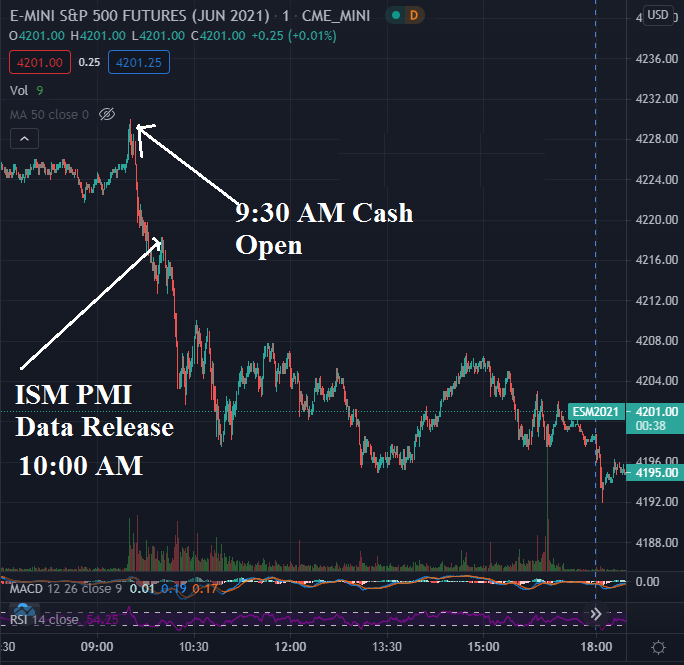 Figure 1 - June E-mini S&P 500 Futures 7:30 AM June 1, 2021 - 6:46 PM June 1, 2021, One-Minute Candles Source tradingview.com
A picture is worth a thousand words. In the above chart, we can see how the cash S&P 500 open was sold, and how the PMI print was sold.
Disclaimer: This content is for informational and analytical purposes only. All essays, research, and information found above represent analyses and opinions of Rafael Zorabedian, and Sunshine ...
more