U.S. Approves Biogen's Alzheimer's Drug
During yesterday's session, the US pharmaceutical company based in Massachusetts, Biogen (BIIB), experienced a strong rebound in the stock market after the Food and Drug Administration (FDA) approved the use of its Alzheimer's drug known as Aduhelm.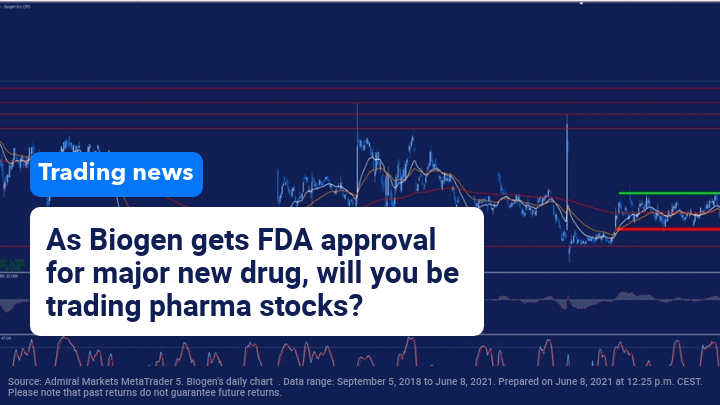 It represents the first approval by this regulator in the last 20 years against this disease, which gives a very positive outlook for the future of this drug, which attempts to address the cognitive decline.
This news received a positive reception from investors, as the price rose sharply yesterday, climbing by more than 38%. In an environment of great volatility, the company marked a daily high of $468.20 per share after opening at $294.91. At the moment, the pre-opening in today's session is marked by a slight rise.
Technically speaking, we can see how after this news the price not only exceeded the side range marked by the red and green stripes, but also exceeded several resistance levels and previous highs. Consequently, we must be very attentive to whether the price is able to maintain these levels, since we cannot rule out a correction framed in a profit collection.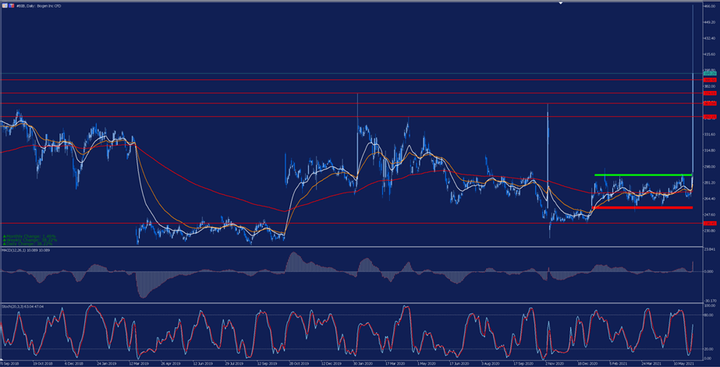 Source: Admiral Markets MetaTrader 5. Biogen's daily chart . Data range: September 5, 2018 to June 8, 2021. Prepared on June 8, 2021 at 12:25 p.m. CEST. Please note that past returns do not guarantee future returns.
Evolution in the last 5 years:
2020: -17,48%
2019: -1,39%
2018: -5,54%
2017: 21,96%
2016: -7,43%
Disclaimer: Any opinions, news, research, analyses, prices or other information ("information") contained on this video, constitutes marketing communication and it has not been ...
more