Ulta Rallies On Q1 Earnings: 2 Analyst Takes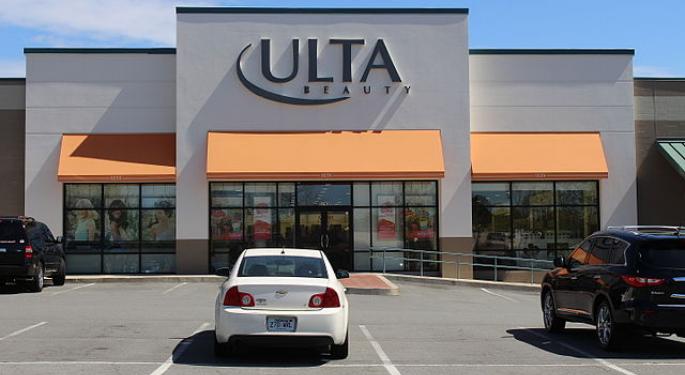 Photo by Michael Rivera/Wikimedia Commons.
Ulta Beauty, Inc. (ULTA) stock closed more than 5% higher Friday after the beauty retailer posted a first-quarter beat and raise, with $1.9 billion in net sales — up 65.2% from $1.2 billion a year earlier and beating the $1.64 billion Street estimate.
Ulta's first-quarter net income was $230.3 million compared to a net loss of $78.5 million in the first quarter of fiscal 2020. Its diluted earnings per share was $4.10, including a 3-cent benefit due to income tax accounting for share-based compensation, versus $1.39 in the first quarter of 2020.
"We have emerged from 2020 with strong momentum in our sales trends, market share gains, and consumer sentiment," Ulta President Dave Kimbell said in a statement. Two Ulta analysts reacted to the retailer's first-quarter performance, remarking on its bounce back from the worst of the pandemic while pointing out a few lingering issues that could slow its financial progress.
Raymond James On Ulta
Joseph Altobello, equity research analyst at Raymond James, maintained a Market Perform rating on Ulta. The company posted "very impressive 1Q results that not only demonstrated substantial growth over a depressed COVID-19-impacted base period, but perhaps more importantly over 1Q19 results as well on sales, margins, and earnings," the analyst said.
Altobello increased his forecast for fiscal years 2021 and 2022 adjusted EPS from $9.15 to $11.95 and from $10.15 to $13.25, respectively. He also echoed Ulta's acknowledgment from its earnings report that much of its success was driven by the waning of the COVID-19 pandemic and the infusion of federal stimulus funds into consumers' wallets.
While Ultamate Rewards loyalty membership was down 2% from one year earlier, it was also up 5% from the previous quarter, "reflecting a strong recovery amid store reactivations," Altobello said, despite the social distancing requirements still in place throughout the quarter.
© 2021 Benzinga.com. Benzinga does not provide investment advice. All rights reserved.