Transco Dumps Its MLP
On the University of Texas website is a documentary titled Gift from the Earth: Natural Gas. It describes the construction of a pipeline to transport natural gas from Texas to population centers on the east coast, as far away as New York City. The pipeline was built by the Transcontinental Gas Company (Transco), and the documentary is from the 1950s.
Today, Transco has grown into America's largest natural gas pipeline network. Since 1995 it's been owned by Williams Partners (WPZ). With some justification, WPZ management describes it as irreplaceable – the cost to acquire the land and easement rights combined with the infrastructure itself would run into the tens of $Billions. WPZ is 6.6% of the Alerian MLP Index (AMZ) and 8.1% of the Alerian MLP Infrastructure Index (AMZI). It will soon be leaving.
Williams Companies (WMB) is WPZ's corporate parent. They concluded that the advantages of having an MLP had diminished, and that their business will grow faster by rolling up the remaining publicly held units of WPZ (WMB already owns 74%) into the parent. Oneok Inc. (OKE), which absorbed its MLP last year, has an Enterprise Value/EBITDA multiple of 15-16X, a valuation WMB must feel is attainable from its present 11-12X.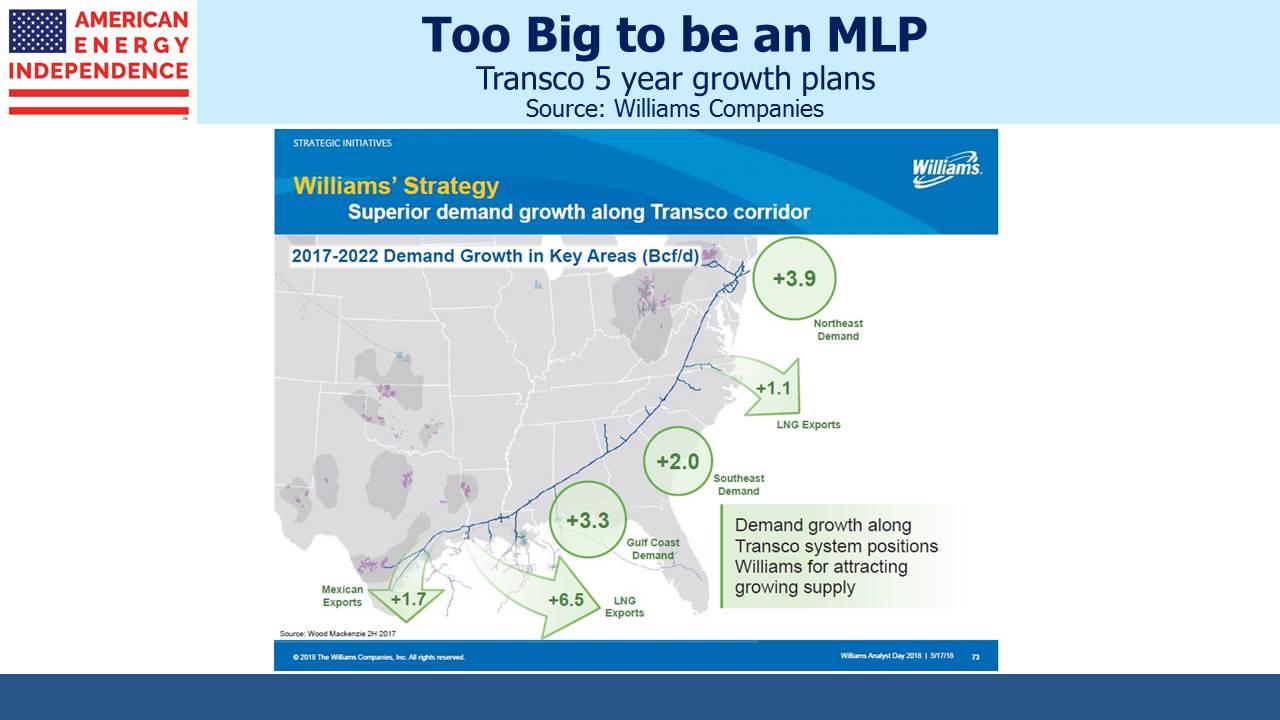 MLPs retained their tax-free status through last year's tax reform. The problem is that the investor base remains frustratingly narrow. Those who face tax hurdles in buying MLPs include tax-exempt U.S. institutions and non-U.S. buyers, together a substantial percentage of U.S. equity holders. Most individuals are put off by the K-1s rather than 1099s for tax reporting. That leaves older, wealthy Americans whose accountants prepare their tax returns as the main source of equity capital.
Given their dependence on a fairly limited set of buyers, you might think MLPs would have treated them better. These holders were attracted by high, reliable tax-deferred payouts combined with modest growth. The Shale Revolution created new business opportunities that raised leverage, leading to slashed distributions (over 50 so far), and simplifications that come with a tax bill. Betrayed, these older, wealthy Americans now regard with skepticism MLP yields that are historically high, thereby raising the cost of equity capital for the sector.
Disclosure:
We are invested in ENB, KMI and WMB. We are short AMLP
Disclaimer: For more detailed information please click more