Top Tech Stocks: Trading Opportunities For Next Week - Sunday, May 29
Image Source: Pixabay
A security pattern traces the distinct movements of security prices that, once recognized, help traders to make informed trading decisions. These patterns are identified by their vital geometrical elements, which are formed by changing security prices. Let's look at some tech stock opportunities by analyzing these patterns.
The triangle symmetrical bottom pattern forms when the price of a security fails to retest a high or a low and ultimately forms two narrowing trend lines. As the support and resistance levels consolidate, it forms a triangle (1­5).
Symmetrical triangles are characterized by the upper line sloping downward and lower line sloping upward. The price movement inside the triangle should fill the shape with some uniformity, without leaving large blank areas.
This pattern is commonly associated with directionless markets, since the contraction (narrowing) of the market range signals that neither bulls nor bears are in control. However, there is a distinct possibility that market participants will either pour in or sell out, and the price can move up or down with big volumes (leading up to the breakout).
Trade Idea:
Buy near the breakout (entry) price – $46.07.
Sell at the target (exit) price – $49.23.
Trend trading is a strategy based on the technical analysis of changing market prices. The trend trader enters into a long position when a stock is trending upward and uses the short position when a stock is trending downward.

Buy Signals for Digi International Inc. (DGII), Flex Ltd. (FLEX), & CyberOptics Corporation (CYBE)
Trade Idea:
Buy at the opening of the stock market on Monday if the opening price has gone up by no more than 0.5% of Friday's closing price.
Sell after the price has risen by 2% from Friday's closing price, or at the end of the trading week if the target is not reached.

Buy Signal for Rambus Inc. (RMBS)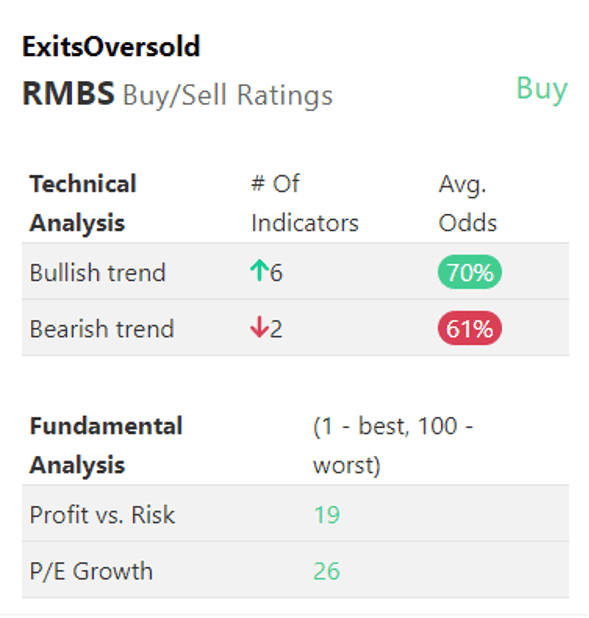 Trade Idea:
Buy RMBS at the current market price if seen as appealing.
Sell RMBS after receiving the "sell" recommendation from trusted analyses.