Time To Buy These Consumer Food Stocks With Stellar Dividends
Several consumer staples stocks are worthy of consideration among the Zacks Food-Miscellaneous Industry which is currently in the top 15% of over 250 Zacks industries.
Many of these food companies are attractive as they offer stellar dividends in addition to the potential for near-term upside in their stocks. Let's take a quick look at a few of the names standing out in the industry at the moment.
Strong Value
Sporting a Zacks Rank #2 (Buy), Kellogg (K) stock is attractive in terms of value trading at 16.1X forward earnings. This is nicely beneath the Food-Miscellaneous Industry average of 18.1X and the S&P 500's 19.8X.
Plus, earnings estimates are slightly up over the last 60 days. Kellogg's earnings are expected to dip -2% this year but rise 5% in FY24 at $4.32 per share. Kellogg offers investors a generous dividend yield of 3.56% and well above the benchmark's 1.49% average.
(Click on image to enlarge)

Image Source: Zacks Investment Research
Also standing out in terms of valuation is Kraft Heinz (KHC) which sports a Zacks Rank #1 (Strong Buy). Rising earnings estimates are starting to make Kraft stock look undervalued at $37 a share and just 12.8X forward earnings.
(Click on image to enlarge)

Image Source: Zacks Investment Research
Kraft earrings are now projected to be up 3% this year and rise another 3% in FY24 at $2.99 per share. More impressive, Kraft has beaten earnings expectations for 16 consecutive quarters and has a 4.33% dividend yield.
(Click on image to enlarge)

Image Source: Zacks Investment Research
Steady Growth
Landing a Zacks Rank #2 (Buy) Nestle (NSRGY) is one of the more attractive stocks in the Food-Miscellanous Industry in terms of growth. Double-digit top-line growth is expected this year with sales projected to jump 10% at $105.31 billion.
Expanding as the global leader in coffee (Nescafe) and mineral water (Perrier) Nestle's earnings are forecasted to rise 8% in fiscal 2023 and expand another 7% in FY24 at $5.80 per share. At 21.8X forward earnings, Nestle's P/E valuation is reasonable considering EPS estimates have trended higher and its 2.36% dividend yield is suitable for income seekers.
(Click on image to enlarge)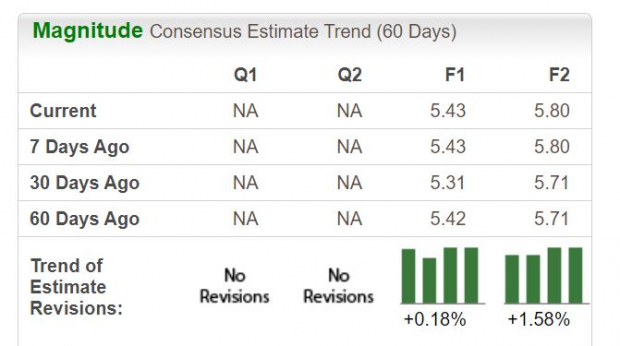 Image Source: Zacks Investment Research
Takeaway
Rewarding patient investors with their lofty dividends these consumer food stocks looked poised to move higher as well. At the moment the top-rated Zacks Food-Miscellaneous Industry offers an abundance of opportunity with these being three examples of such.
---
More By This Author:
DocuSign Surpasses Q1 Earnings And Revenue Estimates
Bear Of The Day: Macy's
GameStop Reports Q1 Loss, Lags Revenue Estimates
Disclosure: Zacks.com contains statements and statistics that have been obtained from sources believed to be reliable but are not guaranteed as to accuracy or completeness. References to any specific ...
more