Three Natural Gas Stocks To Buy Before A Price Rebound
Natural gas prices have collapsed over the last few months. The combination of geopolitical tensions, economic woes, and technical breakdowns continues to keep natural gas prices low.
The cooler temperatures in recent days and the lack of tropical storms in the Gulf of Mexico haven't supported prices either.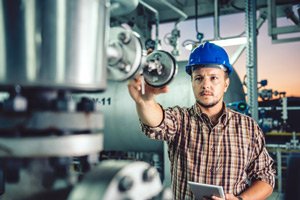 Investors in natural gas stocks have taken a hit since Memorial Day weekend.
In July alone, the average Henry Hub price declined from $2.26/MMBtu to $2.20MMBtu – and the dip may not be over…
Price declines have grown even worse in Asian and European markets due to rising supplies and sluggish demand.
With that in mind, the Energy Information Administration forecast that the average Henry Hub price would be $2.39 in 2019 before recovering to an average $2.75 in 2020.
If you're a contrarian investor, however, you have an opportunity to buy into rock-bottom natural gas stocks ahead of the fall and winter months.
Given that most investors anticipate that a recession is coming, they should also prepare for a short-term bounce in inflation before a decline in GDP.
Energy stocks, despite their recent downturns, provide an opportunity to capture sharp gains.
This proprietary system tracks more than 1,500 profitable companies and assigns each with a score from 1 to 4.9. The higher the score, the more likely the company is to break out in the coming months.
Today, we discuss the three best natural gas stocks to buy right now.
Natural Gas Stock to Buy, No. 3
Carrizo Oil & Gas (NASDAQ: CRZO) is an unconventional producer of oil and natural gas across Texas.
Since its launch 10 years ago in the Barnett Shale, the company has established itself as a leading horizontal well driller. Its primary operations center on the Eagle Ford Shale in South Texas and the Delaware Basin in West Texas.
The firm will benefit from rising prices of both crude and oil given its 329 million barrels of oil equivalent on its balance sheet.