Three Growth Stocks Tackling 5G's Big Data Problem
As a stock picker, it pays for me to be on top of prominent trends. I need to become a quasi-expert, at least, in the areas of 5G, the Internet of Things (IoT), cannabis, big data, and the list goes on.
One of the fascinating aspects of being a market watcher, as I've been for over 25 years, is that I not only learn about new technologies but see how companies apply them to build businesses.
For the past several years, as computing has gotten faster and more powerful, big data has been on the radar of many investors. What exactly is big data?
Essentially, it means taking a very large amount of data and being able to organize it and then find patterns to make decisions upon. That decision making can involve founding a new business, or finding the best way for an autonomous vehicle to avoid an obstacle in the road.
Several business models have evolved around big data. Some companies collect and organize it, some use data in a consulting arrangement, to advise clients in a broad array of industries, and some focus on the technology to gather the data that eventually becomes big data.
Clarivate Analytics (CCC)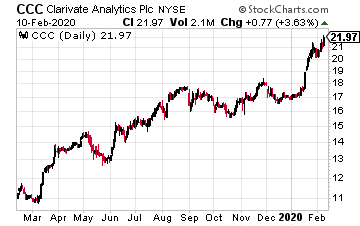 Clarivate came public in 2019 via a special purpose acquisition company, or SPAC, and has been chugging higher since its IPO.
The company builds databases and advises companies on product innovation. They organize global research in the field of life sciences, maintain industry codes and standards, and can tell you if your trademark or patent is valid or can be developed into valuable intellectual property.
I think no one would argue that the business world has gotten more complex with the growth of global trade, which yes, even with trade wars, continues to grow around 2-3% every year.
Clarivate has been rolling up other analytics providers, recently announcing the acquisition of Decision Resources Group, in late 2019. The market loved the acquisition and has sent the stock higher as a result.
Clarivate had its first positive earnings report in November, bringing in $.11 per share. Earnings are projected to grow around 35% over the next year.