This Is What Hedge Funds Bought And Sold In The Second Quarter
In addition to the widely publicized changes in Berkshire Hathaway's portfolio, where as we previously reported, Warren Buffett dumped a material amount of his bank holdings in addition to completely selling out of airlines, while making his first ever foray into precious metals with a new $563MM stake in Barrick Gold (GOLD), there were other quite notable changes in hedge fund portfolios during Q2, as disclosed in the barrage of 13Fs filed on Friday.
As Bloomberg recaps, the 13F filings show that even more hedge funds leaned in to the stay-at-home trade amid the COVID-19 pandemic. Of note, Home Depot (HD) was a top new buy for Balyasny Asset Management, while Pershing Square Capital Management and Adage Capital Partners boosted stakes in Lowe's (LOW). Coatue Management boosted its stakes in Peloton (PTON) and Zoom Video Communications (ZM).
Netflix (NFLX) was one notable exception as Appaloosa, D1 Capital Partners, and Viking Global Investors cut their stakes. The streaming giant was a new buy at Tudor Investment Corp.
Some funds also snapped up shares in Alibaba Group Holding Ltd (BABA). Ray Dalio's Bridgewater Associates and Stan Druckenmiller's Duquesne Family Office were among those that boosted stakes in the Chinese internet company. Maverick Capital, on the other hand, trimmed its holdings.
In any case, no matter what they did, hedge funds continue to dismally underperform; not just the broader market, but a basket of stocks beloved by retail investors as well.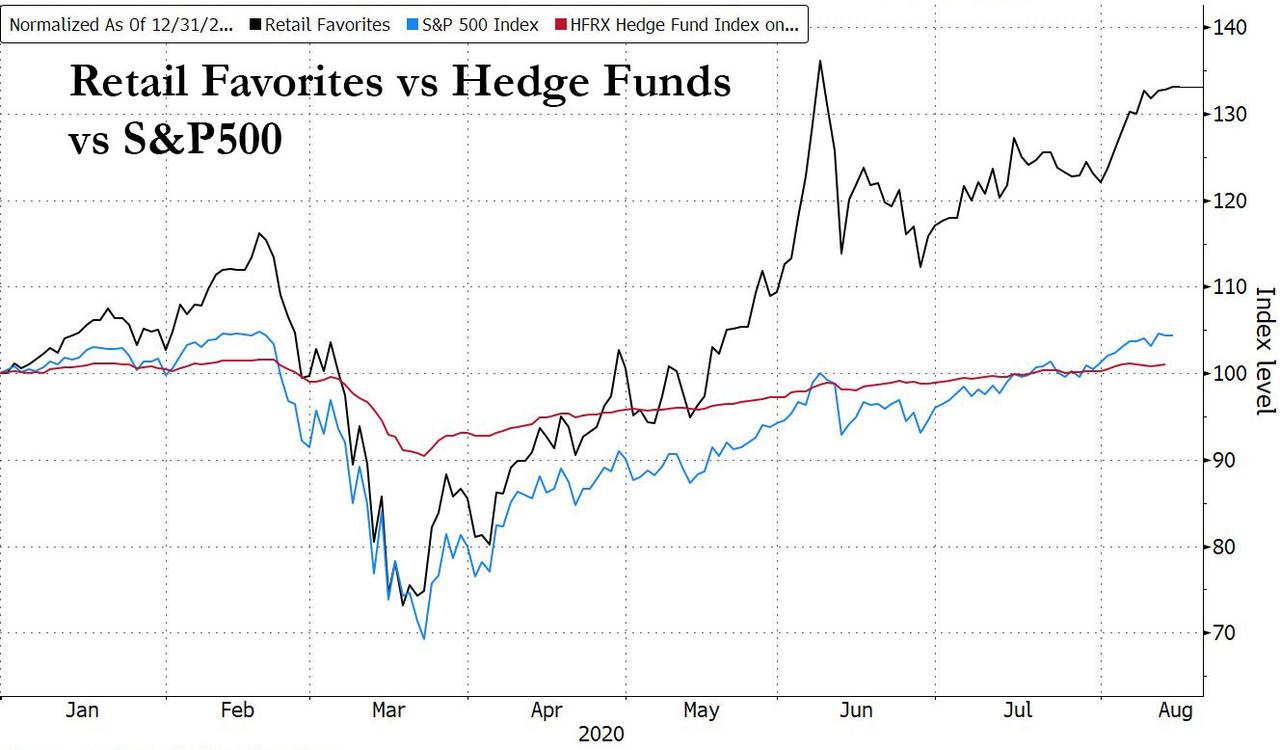 Worse, the Sharpe ratio of equity long/short hedge funds is now a negative 0.6. Perhaps it's time hedge fund paid investors to "manage" their money.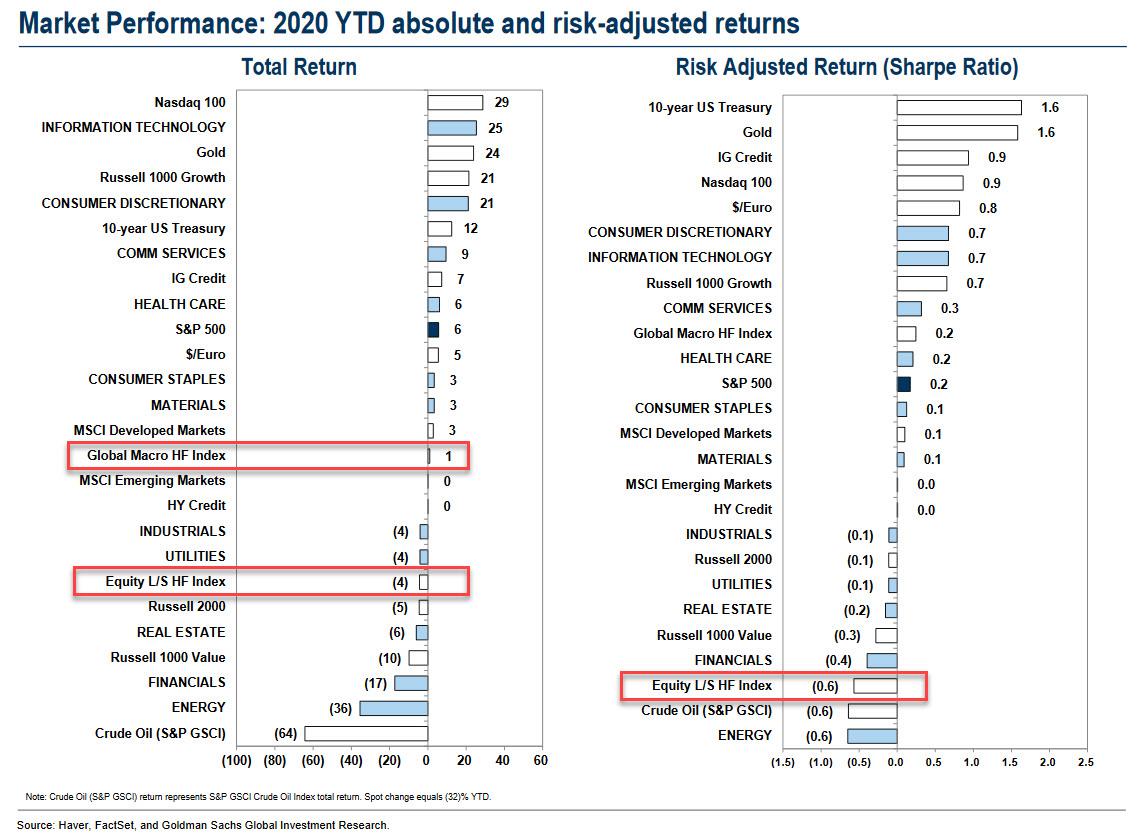 In any case, for those who still care, below is a summary of what the most prominent hedge funds did in the second quarter, courtesy of Bloomberg:
ADAGE CAPITAL PARTNERS
Top new buys: RPRX, ABBV, W, HZNP, FIVE, ST, CCK, TRV, USB, JCI.
Top exits: BMY, GILD, ETN, PNC, MAS, EXC, AON, CCMP, NI, CX.
Boosted stakes in: BURL, PYPL, FTV, ITT, LOW, GOOGL, TMUS, EYE, AZO, BMRN.
Cut stakes in: LMT, JNJ, PFE, HON, VZ, VRTX, TGT, VMC, PXD, LLY.
APPALOOSA
Top new buys: T, V, MA, PYPL, DIS, SYY, EMR, MO, SQ, TEN.
Top exits: INTEQ, XLU, BKLN.
Boosted stakes in: TMUS, BABA, MU, HCA, MSFT, BSX, TWTR, WFC, CRM, GT.
Cut stakes in: PCG, UNH, TSLA, HUM, VST, AMLP, AVGO, NFLX, QCOM, ADBE.
BALYASNY ASSET MANAGEMENT
Top new buys: SCHW, ABT, TGT, HD, ADBE, SHOP, ITW, COST, C.
Top exits: JCI, AMTD, INTC, CHTR, KR, TMUS, TTWO, NVDA, ICE, ROST.
Boosted stakes in: PYPL, FISV, BABA, JPM, FLT, NSC, LITE, DKS, QCOM, LHX.
Cut stakes in: BSX, LOW, DG, FIS, ABBV, BAX, INTU, JD, BK, ETFC.