This Can't-Miss Strategy Has Failed For Over A Decade
It's a puzzle that's haunted Wall Street for a few years now: what the heck happened to value investing?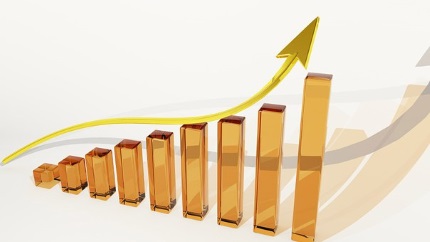 Value investing was the strategy that long occupied the minds of Wall Street's best stock-pickers. From Warren Buffett to Ben Graham to Peter Lynch, the focus was always on value investing.
All prudent investors needed to do was buy underpriced stocks, hold them, and wait for the rebound. There were hundreds of books dedicated to the topic.
These investors weren't alone. There was a lot of academic work to back up their thinking. In fact, value has been shown to work in many different countries and contexts. Best of all, it rewards one of the most important virtues: patience.
But over the last 10 years, value investing has bombed. Not only has value lost to growth investing, but it's lost by a long shot.
Check out this chart below. It shows the S&P 500 Growth Index (in black) along with the S&P 500 Value Index (in blue) since the beginning of 2007.
(Click on image to enlarge)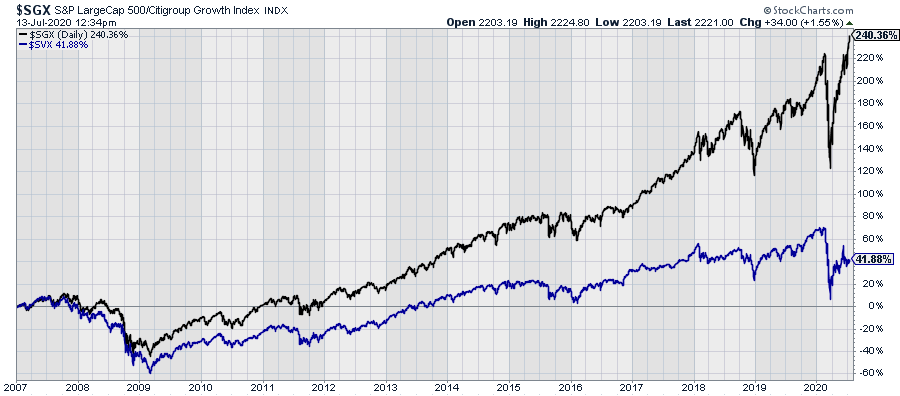 Over 13 1/2 years, value stocks are up only 41%, while growth stocks have gained more than 240%—that's nearly six times better.
Sure, I can understand value lagging for a year or two. That's natural. But now we're looking at 13 years of continuous underperformance. And the longer the rally goes on, the worse value stocks seem to do.
What's going on?
A Possible Explanation
I have a different view. I don't believe that value investing has failed. Instead, what we're seeing is a failure in methodology.
Let me explain. After the financial crisis hit in 2007-2008, many banks were totally broken up. As a result, these banks had very elevated book values, meaning the accounting value of their businesses was artificially high. Even today, many of the large banks trade near one times book value, sometimes less.
As a result, lots of banks have gotten unfairly swept into the value category. This really reflects the particulars of that industry, not whether the shares are cheap or not. In essence, the value index has become a stealth banking index.
Disclosure: Information contained in this article and its websites maintained by Investors Alley Corp. ("Investors Alley") are provided for educational purposes only and are neither an ...
more