These Are The 50 Most Popular Hedge Fund Longs And Shorts
After a dreadful year for professional (carbon-based) money managers, when in 2018 the average hedge fund posted the worst return since 2011, equity hedge funds have had a strong start to 2019, returning 6% YTD.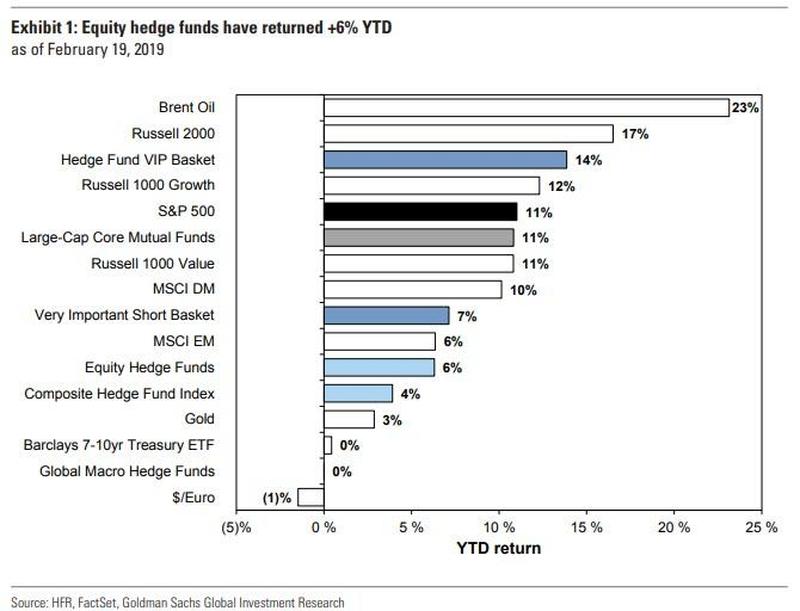 Although far from discovering some new source of alpha, according to Goldman's analysis of the latest batch of 13F filings, the recent strong hedge fund returns have benefited from the outperformance of the most popular long positions as well as the decision to increase net length ahead of the equity market bottom in December 2018.
Furthermore, the relative performance of Goldman's Hedge Fund VIP basket and hedge fund net long exposure each bottomed in the days before the S&P 500 reached its low on December 24. So far in 2019, the VIP basket, which tracks the most popular long positions, has returned +14%, outperforming both the S&P 500 (+11%) and Goldman's basket of the largest short positions (GSTHVISP, +7%), which is to be expected in light of the massive short squeeze that has taken place in the past 9 weeks.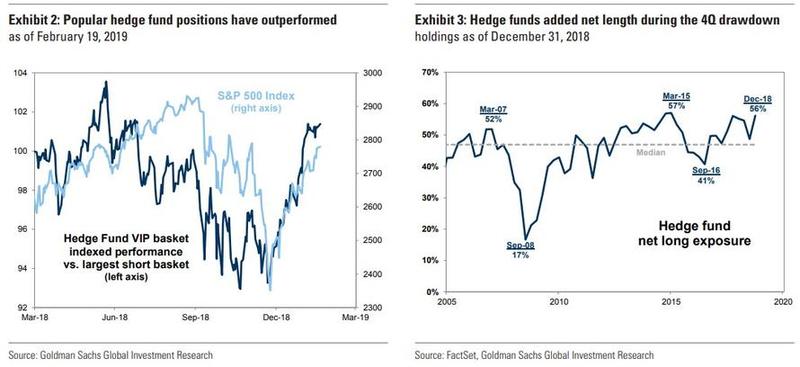 Also benefitting hedge funds, aggregate net leverage calculated based on publicly-available data registered 56% at year-end, a sharp increase from the 49% net length at the start of 4Q. According to Goldman, gross exposures rebounded modestly alongside the equity market but remains well below levels registered during most of the prior 18 months. According to data from Goldman Sachs Prime Services, gross exposures declined sharply as the S&P 500 turned lower in early October 2018. At roughly 230%, current gross exposures are similar to levels in late November 2018. Mirroring the decline in gross exposures, the share of S&P 500 market cap held short is now at the lowest level since 2007.
Confirming that the recent move has been driven by one giant short squeeze, after spiking to 2.5% in late 2015, short interest as a share of S&P 500 market cap has tumbled and is now just 1.7%, matching the lowest since 2007.