The Spanish Flu – Coo Coo Ca Choo – Stock Market (And Sentiment Results)…
(Click on image to enlarge)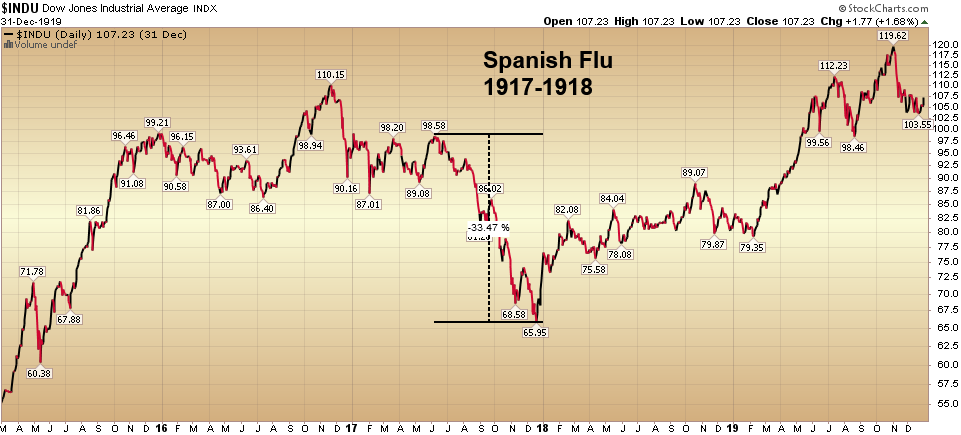 According to Wikipedia, in 1917, military pathologists reported the onset of a new disease with high mortality that they later recognized as the flu. By late 1917, there had already been a first wave of the epidemic. October 1918 was the deadliest month of the whole pandemic. It is estimated to have killed ~50M people (~3% of the global population at the time).
In the chart above, you will see how the Dow Jones Industrial Average performed over this period. It is unclear whether the epidemic was known as early as 1916 (the market peak), but even if you go off an unrelated peak, the max drawdown for the market was 40%. If you use the 1917 market peak as your starting point, the drawdown was 33%. Note that the deadliest month of the flu was October 1918 when the market had already rallied 35% off the bottom.
Just as the market started discounting the worst-case scenario in 1917, it was already discounting a recovery months before the worst-case scenario actually occurred in 1918.
Let's compare that to what we have seen so far:
(Click on image to enlarge)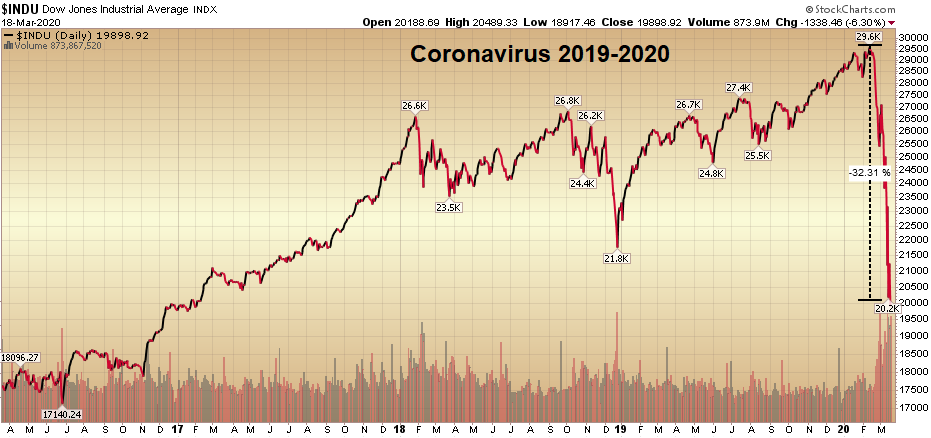 If you use the flu top from 1917 – when they actually knew about the epidemic, we have now fallen approximately the same amount (discounting the worst) as was seen in 1917 (~33%). The difference is that we have better medicine, methods, and experience to mitigate the outcome – relative to what they had available in 1917-1918.
So while the worst was ahead in terms of the Spanish Flu in December of 1917, the worst was done for the stock market after the 33% drop. That does not mean we will repeat the exact trajectory, it's just something to bear in mind moving forward. The market has already discounted a lot of pain based on its current drop. It will be just as quick to discount a recovery once the initial shock subsides.
As for "Coo coo ca choo" (from the article title), this was simply a phrase used in the Beatles song I Am the Walrus. According to the Urban Dictionary, a widely accepted variation of the meaning of "coo coo ca choo" is a slang way to assure the state of things is entirely fine; an expression of reassuring goodness. I'm not saying we're there yet, I'm just saying we will be (follow the guidelines and have faith)…
Disclaimer: Not investment advice. For educational purposes only: Learn more at HedgeFundTips.com.