The Retirement Portfolio You Never Have To Touch
High dividends and the potential for capital gains are two of the biggest drivers of the ultimate retirement portfolio. I like these five stocks for their potential on both fronts.
Written by Brett Owens (ContrarianOutlook.com)
Here's are five stocks yielding between 8.2% and 9.8% that analysts also believe will deliver profit growth in the years to come.
TCP Capital Corp. (Nasdaq:TCPC)
Dividend Yield: 8.2%
TCP Capital is a business development company that targets midsized firms, typically between $100 million and $1.5 billion in enterprise value – some of which the company admits include "complex situations requiring specialized industry knowledge." In other words, not every investment TCP makes is a no-doubt, low-maintenance winner. That's OK, though, because while TCP will on occasion provide deals that include equity or mezzanine debt, 95% of TCP's portfolio is senior secured debt.
TCP Capital's portfolio is also extremely diversified, with the company offering a meticulous breakdown of its industry, including "Utility System Construction," "Building Equipment Contractors" and "Lessors of Non-financial Licenses."
TCPC, like most BDCs, took its lumps from 2014 through the start of 2016, but operationally speaking, there's a lot to like. Total investment income has grown uninterrupted for years; 2016's $148 million was nearly triple 2012's figure. Better yet, that figure is expected to increase roughly 10% annually for the next couple of years, and Wall Street projects roughly 4% annual earnings growth for the next half-decade.
That in turn should help power TCPC back to 2014 highs and beyond, complementing the stock's 8%-plus yield.
TCP Capital (TCPC) Is Back on Track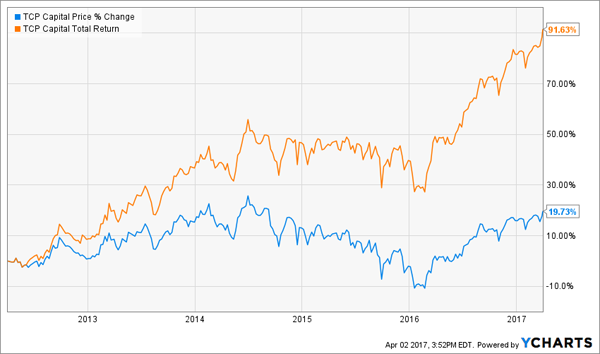 Hercules Capital Inc. (NYSE:HTGC)
Dividend Yield: 8.2%
Hercules Capital Inc. shows once again why interest rate hikes aren't always bad news for BDCs and other high-yield investments. In fact, management just explained to investors that a 25-cent increase to the prime rate will add 2 cents per share to annual net investment income.
This article may have been edited ([ ]), abridged (...) and reformatted (structure, title/subtitles, font) by the editorial team of munKNEE.com (Your Key to Making Money!) to provide a ...
more