The New Normal: A Winning Strategy In 2022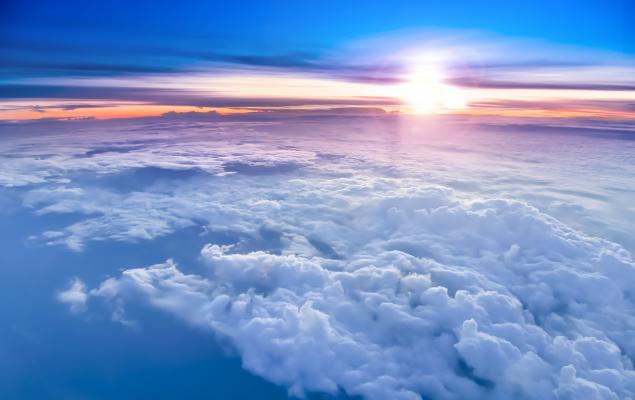 Image: Shutterstock
After a bull market for the history books that saw stocks deliver double-digit gains in each of the last three years, investors are faced with a sad truth: there is a high probability that stocks won't post similar outsized gains this year. Last year witnessed above-average growth as the economy reopened and surged relative to the prior depressed data.
This year, both slowing economic growth and lower corporate earnings growth will likely translate into lower stock returns. These types of market periods are highlighted by increased volatility and uncertainty. But that isn't necessarily a bad thing – because with volatility comes opportunity. We just need to know where to look.
Here's a chart of the S&P 500 over the last nine months: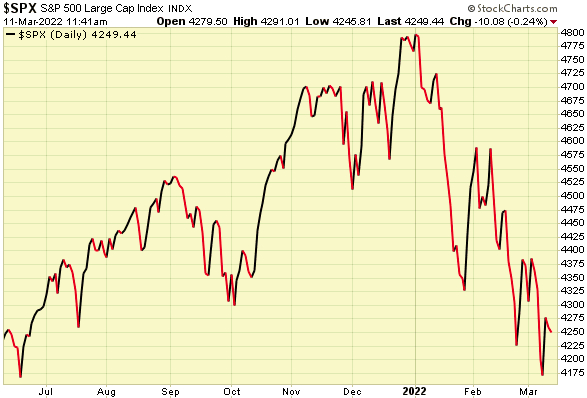 Image Source: Stockcharts
As we can see, there is substantial volatility and little trend. Higher volatility has become the new normal. The upside in this situation is that certain pockets of market become more appealing and tend to attract investment. The opportunity for the active investor becomes greater as these pockets may have been previously depressed or undesirable.
Whether we have more downside for this move lower in the market or not, it's imperative to remain patient during corrections. Having a plan in place going in puts us in a much better mindset when those rough market stretches persist.
The point is to limit the downside without completely giving up the gains that can come from equities when the market eventually recovers. There's nothing less safe than playing it too safe. A better course of action is to revisit our portfolio in a calmer moment to build in ways to accept greater volatility without panicking.
One way to identify individual leading stocks in this (and any) market environment is to determine the leading industry groups, a process that naturally thins the field and pinpoints companies that are outperforming. While this year has been painful for the passive fund investor, certain pockets of the market have been working.
The Zacks Transportation – Shipping industry is ranked in the top 33% out of approximately 250 industry groups. The stocks within this industry group are experiencing positive earnings estimate revisions, which is the most powerful force impacting stock prices. Also note the favorable valuation for this industry group:

Image Source: Zacks Investment Research
Investing in stocks within leading industry groups can provide a constant 'tailwind' to our investing success. Let's take a look at two Zacks #1 (Strong Buy) stocks within this top industry group.
Global Ship Lease, Inc. (GSL - Free Report)
Global Ship Lease owns and operates container ships under long-term, fixed-rate charters to world class container shipping companies. GSL owns over 40 container ships of varying sizes. Global Ship Lease commenced operations in 2007 and is based in London.
GSL has exceeded earnings estimates in nine out of the past ten quarters. Last week, the container ship operator reported Q4 EPS of $1.84, a +46.03% beat over the $1.26 consensus. The stock has been on a tear, nearly doubling from a year ago and up 27.3% in 2022.
Global Ship Lease, Inc. Price and EPS Surprise
Over the last four quarters, GSL has posted a +44.62% average earnings surprise. Despite the impressive performance, GSL is still relatively undervalued (3.7 forward P/E) versus its industry group (4.3).
Analysts are in agreement in terms of recent earnings estimate revisions and have upped their 2022 EPS estimates by 7.15% in the past 60 days. The full-year Zacks Consensus Estimate now stands at $7.79, reflecting potential growth of 60.29% relative to last year.
ZIM Integrated Shipping Services Ltd. (ZIM - Free Report)
ZIM Integrated Shipping Services provides container shipping and related services globally. ZIM provides cargo and transport services including seaborne passage and logistic solutions. The company operates a fleet of over 100 vessels. ZIM Integrated Shipping Services was founded in 1945 and is based in Haifa, Israel.
ZIM has beaten earnings estimates in each of the past four quarters, sporting a +22.67% average surprise over that timeframe. The shipping container provider posted Q4 EPS earlier this week of $14.17, a +3.81% surprise over estimates. ZIM stock has surged over 260% in the past year and is up 30.7% this year alone.
ZIM Integrated Shipping Services Ltd. Price and EPS Surprise
ZIM's run may be just getting started, as even with the remarkable performance the company still trades relatively undervalued at just a 2.44 forward P/E. Analysts covering ZIM have raised their current-quarter EPS estimates by +60.13% in the past 60 days. The Q1 Zacks Consensus Estimate now sits at $12.65, translating to 146.59% growth relative to last year. ZIM will report these results on May 18.
Disclaimer: Neither Zacks Investment Research, Inc. nor its Information Providers can guarantee the accuracy, completeness, timeliness, or correct sequencing of any of the Information on the Web ...
more