The Greatest Short Squeeze In History
From the lows in March, the "most shorted" stocks in the market are up a stunning 207% - by far the largest such surge in the history of the data...
(Click on image to enlarge)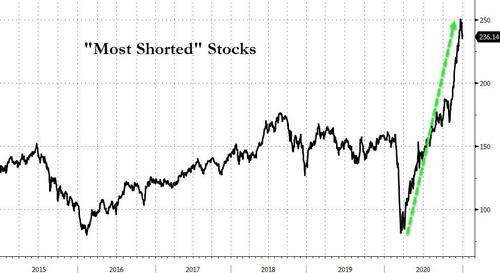 Source: Bloomberg
But that is nothing compared to the short-soul-crushing damage that Elon Musk's Tesla has wrought in markets this year.
(Click on image to enlarge)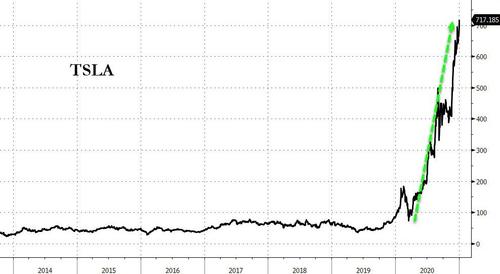 With TSLA stock up over 740% in 2020, Bloomberg reports that Tesla bears have seen more than $38 billion in mark-to-market losses this year, according to data from S3 Partners. By comparison, the next-biggest loss for short sellers was on Apple Inc. (AAPL), at just under $7 billion, S3 data shows.
(Click on image to enlarge)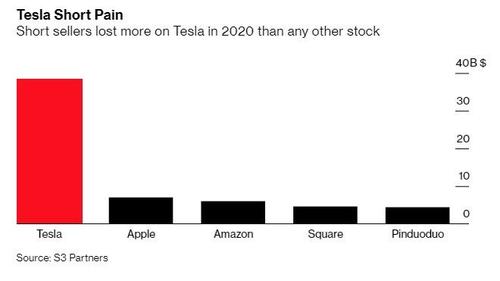 This "is not only the largest mark-to-market loss for any stock this year, it is the largest yearly mark-to-market loss I have ever seen," said Ihor Dusaniwsky, a managing director at S3 Partners.
Many of TSLA's short-sellers have been squeezed out of their positions by the endless surge with short interest falling to less than 6% of the float from nearly 20% a year ago, according to S3 data.
(Click on image to enlarge)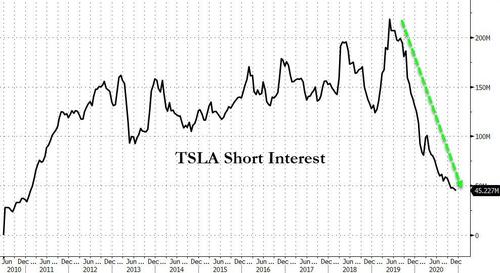 In July, CEO Musk tweaked the noses of Tesla critics by selling limited-edition red-satin shorts with the company's logo - or what he called "short shorts." Fans have posted pictures of themselves wearing them as Tesla's stock has rallied, and Musk tweeted a picture of a pair as a Christmas greeting.
Tesla short shorts are starting to be delivered & worn in public. Here, @Sofiaan was spotted washing his car in a pair. #TeslaShortShorts Thanks Sofiaan, they look stunning! pic.twitter.com/oCsD7SzH4x

— Tesla Owners Austin (@AustinTeslaClub) October 28, 2020
"The short squeeze has been going on all year. It's been an angled straight line down," Dusaniwsky said. "The big thing about Tesla, as opposed to any other stock, is that the vast majority of retail shareholders will never be sellers. They love the stock, they love the car, they love Elon Musk and they are adamant long shareholders."
Disclaimer: Copyright ©2009-2020 ZeroHedge.com/ABC Media, LTD; All Rights Reserved. Zero Hedge is intended for Mature Audiences. Familiarize yourself with our legal and use policies every time ...
more