The First Flying Cars Are In Our Line Of Sight
Most Americans watched The Jetsons on black-and-white TV sets. But William Hanna and Joseph Barbera's most colorful ideas quickly sprung up all around us… and made a lot of people rich in the process.
Rosie the Robot's real-life counterpart, iRobot (IRBT), just saw its sales surge among quarantined Americans eager to outsource their housework. And 2020's lockdown would have looked a lot different without Orbit City's video calls and other smart-home technologies.
The only thing missing is George Jetson's lauded flying car. But we won't have to wait until 2060 to get one.
The same technology that powered his son Elroy's toy drones will get us there. And we already have that, too.
Dude, Where's My Flying Car?
Companies have the parts. They just need the vision, literally.
If you've ever operated a drone or seen one in flight, you know it must stay within the operator's line of sight.
Drones are equipped with cameras, of course. But they don't give you a simultaneous 360-degree view in every direction. Lose sight of your drone, and the odds of hitting something—or someone—rise dramatically.
Getting past this limitation is what is known as Beyond-Visual-Line-of-Sight flight, or BVLOS.
And the technology being developed that enables BVLOS flight is critical to safely integrating autonomous drones into our airspace.
Another Small Step for Man
The arrival of autonomous drones—where they operate with no human intervention—will permanently alter how we view transportation and distance.
Fever and the flu got you confined to bed? UPS (UPS) received FAA approval for its Flight Forward drone service (although it's restricted to suburban and rural areas) and partnered with CVS Pharmacy (CVS) to deliver medication.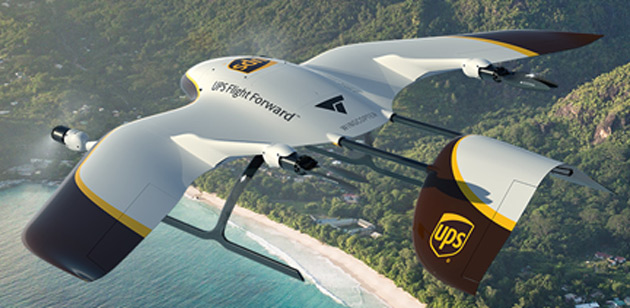 An autonomous drone—what UPS calls a wingcopter—will quickly deliver the relief you need. Source: UPS
Disclaimer: The Mauldin Economics website, Yield Shark, Thoughts from the Frontline, Patrick Cox's Tech Digest, Outside the Box, Over My Shoulder, World Money Analyst, Street Freak, Just One ...
more