The Coinbase IPO Could Send Bitcoin Rocketing
I would almost be tired of saying it… if it wasn't so incredible: Bitcoin, the granddaddy of cryptocurrencies everywhere, just keeps on charging ahead.
As recently as this past weekend, I had a near-term price target in the neighborhood of $72,000, and as of Tuesday morning, Bitcoin was just under $9,000 away from that level. If it keeps going at its recent pace, it could hit $72,000 in about two weeks – and I'll have to revise my forecast again.
Source: Coinbase
Notice I said "if" it keeps its current pace. That's a pretty big "if," because we've got a huge potential catalyst coming later today with the initial public offering of Coinbase Global Inc. (Nasdaq: COIN).
This should be big – maybe one of Bitcoin's biggest weeks ever. Here's what you need to know…
Coinbase Could Be a Huge Catalyst
If you've never heard of it, it's a name you should know whether you trade cryptocurrencies, stocks, or both.
Coinbase is the biggest, most popular U.S.-based crypto exchange, with around 56 million users worldwide; the company took in $1.3 billion in revenue in 2020, the same year Bitcoin notched a 300%-plus bull run that's continued, more or less unbroken, to today.
Bitcoin and all kinds of major cryptos hit records or fresh highs yesterday, and I don't think all-time highs the day before the IPO is a coincidence. In fact, we've seen this kind of activity before.
Take a look back near the very beginning of this six-month Bitcoin chart…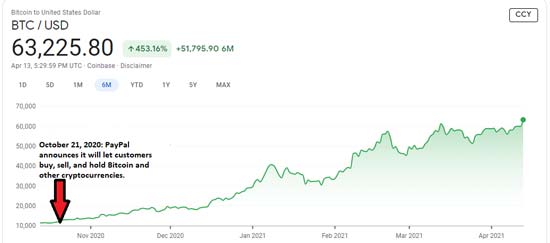 It looks like the bottom of a steep uphill climb, doesn't it?
PayPal Holdings Inc.'s (Nasdaq: PYPL) big October 2020 announcement was an incredible breakthrough for Bitcoin and other cryptos – one of a couple of important turning points we've seen over the past 12 months. PayPal has more than 361 million active users as of the third quarter of 2020, and its move meant that more than 361 million people could, if they wanted to, get their hands on Bitcoin more easily than ever before. PayPal, Square Inc. (NYSE: SQ), Visa Inc. (NYSE: V) – just about every time a big payment processor or credit card adopts or embraces crypto, Bitcoin surges because it means more mainstream acceptance.
Disclaimer: Any performance results described herein are not based on actual trading of securities but are instead based on a hypothetical trading account which entered and exited the suggested ...
more