The Best EV Stocks And Their Tax Credits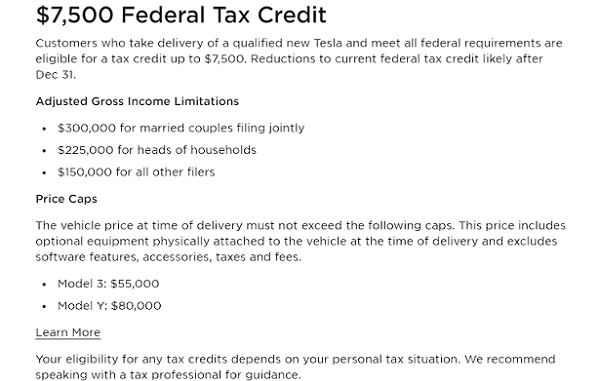 Top EV Stocks to Buy and Watch Now
As electric vehicles (EVs) continue to gain traction and Tesla's (TSLA) influence on the market expands, numerous EV stocks have emerged. However, not all companies are equally prepared for the electric future. Here are the top-rated EV makers and EV-related plays worth considering:
Tesla (TSLA)
Despite facing recent challenges and a dip in the stock price after a strong earnings report on July 20, Tesla remains a dominant force in the EV industry. With record EV sales in Q2, Tesla produces several models, including the popular Model 3 sedan and Model Y crossover SUV. Anticipation is high for the release of the Cybertruck later this year, along with plans for the Semi and Roadster. Tesla's projections indicate significant growth in deliveries, with a 40% increase in vehicle sales in 2022.
BYD China (BYD)
BYD backed by Warren Buffett's Berkshire Hathaway (BRKB), sold over 1.85 million electric cars in 2022, focusing solely on electric vehicles. The China-based auto giant aims for a massive increase in vehicle sales this year, signaling strong profits and expanding its presence internationally. BYD's self-sufficiency in manufacturing batteries and chips has contributed to its rapid growth.
Li Auto (LI)
Li Auto is a very successful competitor to other EV startups like Nio and XPeng, and specializes in premium electric SUVs. Their niche lies in "extended range" EVs, utilizing a small gasoline engine to extend driving range. The company's L7 SUV has shown strong performance, and they plan to release their first all-electric vehicle by the end of the year. Unlike many startups, Li Auto has managed to achieve profitability, though with some fluctuations.
ON Semiconductor (ON)
ON Semiconductor also known as Onsemi, sees significant potential in the EV market. Their silicon carbide (SiC) chips offer higher voltage, temperature, and frequency capabilities than traditional silicon-based semiconductors, making them ideal for EVs. With SiC chips representing their fastest-growing product line, the company expects substantial sales growth and aims to capture a larger share of the SiC market by 2027.
Aehr Test Systems (AEHR)
Aehr Test Systems, a semiconductor equipment manufacturer, focuses on products for testing integrated circuits. The company has experienced double-digit revenue growth due to the rising demand for silicon carbide power chips used in EVs, as well as other industries like 5G wireless, aerospace, solar, and wind energy.
Allegro MicroSystems (ALGM)
Based in Manchester, N.H., Allegro MicroSystems specializes in magnetic sensing and power management chips. With a significant portion of their sales coming from the automotive market, their chip content in EVs has grown as vehicles adopt electrification and advanced safety features. This has led to strong earnings and sales growth for the company.

EV Stocks Are Not All the Same
While the EV market is expanding, not all companies exhibit the characteristics of strong investment candidates. Companies with a track record of earnings growth and a bullish chart pattern are generally better options for investors.
Many of the newer EV startups lack these qualities, while some established auto giants like General Motors, Ford, Volkswagen, and BYD Co. are transforming into EV powerhouses.
Beyond EV Car Manufacturers
The EV stock universe extends beyond carmakers, with various companies involved in providing EV-related products.
These include battery manufacturers like QuantumScape, EV charging station providers like ChargePoint and EVgo, and powertrain developers such as Hyliion.
Additionally, some companies like Magna serve as EV contract manufacturers while supplying essential components like battery enclosures and e-drive gearboxes.
Keep in mind that investing in the EV market carries both potential opportunities and risks, so thorough research and consideration of individual companies' prospects are essential before making investment decisions.

Electric Vehicle (EV) Tax Credits: A List of EV Cars Trucks Eligible for $7,500 Credit
If the price has been the primary obstacle preventing you from buying an electric vehicle, it might be time to reconsider. With strategic planning, you could even have part of the cost covered by the government through EV tax credits.
Federal EV tax credits are just one of the factors fueling a surge in car purchases now. Some cars and trucks also qualify for state rebates or tax credits, combining to potentially reduce up to $15,000 from the price of a new EV. As EV prices continue to fall, and a wider range of models becomes available, this significant purchase is becoming less of a splurge.
This convergence of financial incentives is expected to lead to record demand for EVs going forward, contributing to a milestone where EVs are projected to make up 10% of all new auto and truck sales in the U.S. later this year.
To maximize your EV tax credits, it's crucial to understand the eligibility criteria and available perks when shopping for an electric vehicle.
Rising Popularity of EVs: A Transformative Trend
The U.S. is already experiencing strong electric car sales, ranking third globally after China and Europe. In 2022, the U.S. market witnessed a 55% increase, accounting for 8% of all sales. The surge in EV popularity is expected to have significant implications for the global auto industry and the energy sector. The trend towards electrification could potentially reduce the demand for 5 million barrels of oil per day by 2030.
EV Prices and Tax Credits Driving the Shift
Lower EV prices are a key driving force behind the transition to electric vehicles. In May the average price of an electric vehicle in the U.S. was $55,488, a notable decrease from around $65,000 a year ago. As prices decrease EV sales are on the rise, with May experiencing a 4% increase over April. Automakers are actively seeking a balance between pricing and profitability, contributing to this positive trend.
Understanding EV Tax Credits
Aside from falling prices, there are other incentives for U.S. car buyers to switch to electric vehicles. The federal income tax credit offers up to $7,500 for certain new EVs, and state and local utilities may provide additional rebates and perks.
To qualify for the EV tax credit of up to $7,500, the IRS states that you must buy a new, qualified plug-in EV or fuel cell electric vehicle for personal use, not for resale, and primarily use it in the U.S. Additionally, your modified adjusted gross income (AGI) must not exceed certain thresholds depending on your filing status.
New EVs must meet specific criteria to qualify for the tax credit, including battery capacity, weight rating, manufacturer qualification, final assembly location, and critical mineral and battery component requirements.
The Inflation Reduction Act of 2022 extended federal EV tax credits for another decade, making used EVs also eligible for the credit.
Future Changes to EV Tax Credits
Starting in 2024, taxpayers can transfer the EV tax credit to the dealer at the time of purchase, effectively reducing the vehicle's price by the qualifying credit amount.
Commercial vehicles leased by drivers can still qualify for the EV tax credit despite certain manufacturing restrictions.
State-specific EV tax credits and rebates further contribute to the financial incentives for purchasing electric vehicles.
EV Tax Credits Conclusion
EV tax credits are playing a significant role in encouraging consumers to choose electric vehicles over traditional gasoline-powered cars. As EV prices continue to drop and a wider variety of models becomes available, the market share of electric vehicles is expected to reach new heights. With various federal and state incentives, more car buyers are likely to embrace electric mobility, contributing to a cleaner and more sustainable transportation future.

Which Cars Qualify for EV Tax Credits?
Review the list below and also learn from the dealers which cars offer the tax credit.
Vehicles that qualify for the full $7,500 in tax credits include:
Cadillac Lyriq
Chevrolet Blazer
Chevrolet Bolt
Chevrolet Bolt and EUV
Chevrolet Equinox
Chevrolet Silverado
Chrysler Pacifica PHEV
Ford F-150 Lightning
Lincoln Aviator Grand Touring
Tesla Model 3 Performance
Tesla Model Y
---
More By This Author:
Misconceptions And Opportunities Of Artificial Intelligence
Crypto Market Forecast For The Rest Of 2023
Crypto Market Update
Disclosure: Financial Markets Risk Warning

U.S. Government Required Disclaimer - Commodity Futures Trading Commission Futures and Options trading has large potential rewards, but also large ...
more