The Best Defense Stock To Buy As Global Tensions Rise
China is flexing its muscles on the world stage, especially in the area near Taiwan.
In its latest show of strength, the global superpower conducted live-fire drills off the Taiwanese coast.
It may not be the most hopeful news. But even in scary times, you find certain market trends never go away.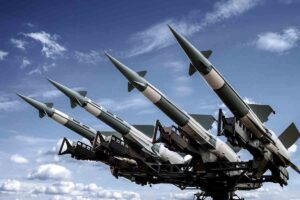 Defense is one of those. The best defense stock to buy now owns a massive portfolio set up for solid growth as tensions rise.
Here's the latest indication that defense stocks should be on your radar. Then we'll show you the best stock to buy, all things considered.
How China Is Moving Defense Stocks
This represents a key milestone in China's march to global dominance.
The nation has been increasingly possessive of Taiwan under the spotlight of the last couple years. Last month, it even got American pro wrestler John Cena to apologize (in Chinese) for implying Taiwan was an independent country.
The island nation of Taiwan sees itself as that. And China has managed to ignore it for years. Now, however, China wants to make clear how it sees Taiwan.
Chinese state-run media recently bragged about its amphibious forces being able to reach the shore of Taiwan in less than a day.
Further, Taiwan's Foreign Minister, Joseph Wu, told CNN that Taiwan and the West need to prepare for conflict with China. This was right after one of the largest Chinese excursions by 28 military aircraft once again violated Taiwan's air space.
As we speak, China also carries out cyberattacks on Western nations. It has flatly denied this, accusing the United States of fabricating the accusations out of thin air for political purposes.
So, it seems that more conflict with China is inevitable. While one hopes that we can avoid armed conflict, if China keeps pushing the forced reunification with Taiwan, a military encounter may be inevitable.
Continued cyber conflict with China is already inevitable, and more attacks happen every day.
Disclaimer: Any performance results described herein are not based on actual trading of securities but are instead based on a hypothetical trading account which entered and exited the suggested ...
more