The Best Comeback Stocks To Buy In 2021
Investors who are trying to time the potential rebound in cruise ships, airlines, hotels and restaurant stocks that have been hammered by the pandemic have the right idea…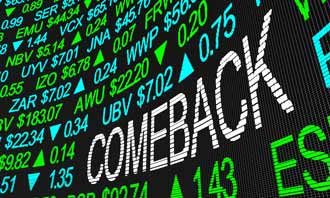 But we can do even better.
Sure, some of those stocks may bounce, but the earnings rebound in these companies will not really start until the second half of the year.
The vaccine is here, but it is going to take time to get widely distributed.
Some people will be hesitant to take the shots. We will still have new cases and deaths being reported for at least the first six months of the year.
Rallies in the COVID-19 impacted stocks may not be supported by earnings until well into 2021…
So, I decided to look for stocks to buy that fell in 2020 but are not relying on the vaccine to restore earnings growth. I also found companies in solid shape fundamentally with outstanding financial statements.
They may have struggled somewhat in 2020, but these top comeback stocks have the potential to be market leaders in 2021…
Here's My First Comeback Stock to Buy
Perdoceo Education Corp. (NASDAQ: PRDO) is a for-profit university that has both online and in-person classes. Most of the classes have been moved online thanks to COVID-19 this year, and the transition was pretty much seamless.
Perdoceo has reported no significant loss of business due to the pandemic, according to recent conference calls with management.
Perdoceo, formerly known as Career Education Corp., offers doctoral, master's, bachelors, associate degrees, and certificate programs in a wide range of subjects.
This company, and its stock price, will be beneficiaries of two significant trends in society today.
The first is the requirement for postgraduate degrees to advance in many fields like education, medicine, and government.
The second is the growing awareness that the current on-campus education system is not the best option for many students. Online degrees can often be completed much faster and almost always much cheaper than the on-campus programs.
Disclaimer: Any performance results described herein are not based on actual trading of securities but are instead based on a hypothetical trading account which entered and exited the suggested ...
more