Tesla Tumbles After Musk Pours Cold Water On Battery Day Expectations
After an initial drop on Monday that followed the broader market swoon, Tesla shares recovered all losses and even managed to close up 1.6% as enthusiasm over tomorrow's Battery Day unveil once again dominated retail flow with a whopping 33,152 deep out of the money $600 calls traded, sparking yet another gamma meltup as dealers were forced to buy stock to keep their book hedged.
ts(Click on image to enlarge)
However, in a surprise announcement ahead of tomorrow's highly anticipated day, none other than Elon Musk sparked another round of selling after the close, when he poured cold water on expectations, warning that "what we announce [tomorrow] will not reach serious high-volume production until 2022" and adding that "even with our cell suppliers going at maximum speed, we still foresee significant shortages in 2022 & beyond unless we also take action ourselves."
Important note about Tesla Battery Day unveil tomorrow. This affects long-term production, especially Semi, Cybertruck & Roadster, but what we announce will not reach serious high-volume production until 2022.

— Elon Musk (@elonmusk) September 21, 2020
In other words, Musk merely repeated the timeline that was already public knowledge, especially among Tesla skeptics...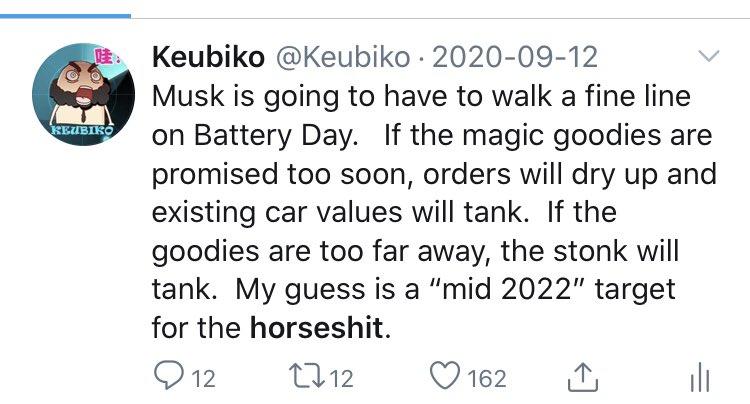 ... however once again it was the buildup of enthusiasm and excitement ahead of tomorrow's reveal that got ahead of the retail public, which quickly forgot about the sharp drop in Tesla stock at the start of September following the non-admission into the S&P and looked to the next catalyst... which we now know will also be a dud.
Which in turn goes back to the now tried and tired strategy perfected by Musk of hyping, hyping, hyping well ahead of any given event, only to let the air out just prior. Consider what he said on Jan 29, 2020 during Tesla's Q4 earnings call:
"Battery Day people. Wait until Battery Day. It's gonna blow your mind. It blows my mind, and I know it!"
Disclosure: Copyright ©2009-2019 ZeroHedge.com/ABC Media, LTD; All Rights Reserved. Zero Hedge is intended for Mature Audiences. Familiarize yourself with our legal and use policies every ...
more