Ten Clean Energy Stocks For 2019
Looking forward to 2019, I'm more optimistic than I have been since the start of 2016, in the wake of the popping of the YieldCo Bubble in late 2015.
The bear market that started in late 2018 seems like it's far from over, but I expect in early 2019 will see it enter a less chaotic phase. After the wild declines and swings of late 2018, I expect investors will begin the new year with an eye to safety more than growth. This means that the clean energy income stocks which are my focus should outperform riskier growth stocks. The end of interest rate increases by the Federal Reserve should also help these stocks as fewer investors are drawn away by the increasing yields of bonds and other income instruments.
As I write on December 28th, my Ten Clean Energy Stocks for 2018 model portfolio looks like it will end the year with a small loss, but ahead of its benchmarks. You can see its returns through December 28th in the chart below, and stay tuned for a recap sometime in the next week.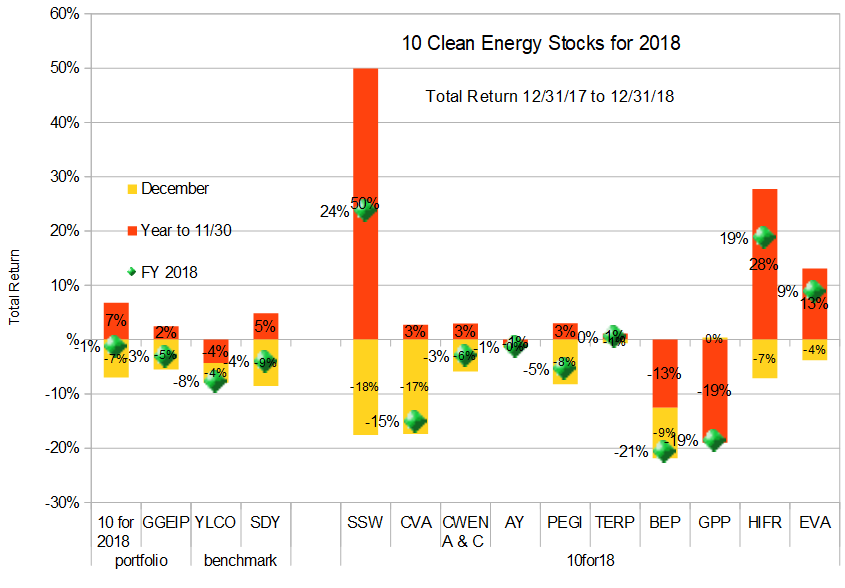 Out with the old
With stock prices down and yields up, I plan to keep seven stocks from the 2018 list for 2019. The exceptions are (somewhat coincidentally), the two winners: InfraREIT (HIFR), Seaspan Worldwide (SSW), and Clearway Energy, Inc (NYSE: CWEN and CWEN/A). I'm dropping InfraREIT because the company is being bought out by Oncor in a transaction expected to close sometime in the second quarter. Seaspan is losing its slot for lack of greenery. I always considered the owner of relatively efficient container ships to be marginally green (due to the relative efficiency of its ships compared to those of its peers), and a recent purchase of an interest in liquefied natural gas transportation makes it no longer meet my standard for a green stock.
I'm dropping Clearway mostly based on relative valuation. The company is still attractive, but a little less so than some of the other Yieldcos which made this year's list. Not only does Clearway have some fossil fuel assets, it also has a large number of power purchase agreements with PG&E (PCG). PG&E, in turn, has significant potential liability from the possible involvement of its equipment in starting some of California's recent wildfires. Both California's utility regulators and legislators are working to protect PG&E from bankruptcy, but what that protection might look like has yet to be seen. Given the large number of Yieldcos at very attractive valuations, I see no need to keep Clearway in my top ten picks.
In with the new
Valeo SA (FR.PA, VLEEF)
12/31/18 Price: €25.21/$28.20. Annual Dividend: €1.25. Expected 2019 dividend: €1.25. Low Target: €20. High Target: €50.
My friend and colleague Jan Schalkwijk of JPS Global Investments brought French auto parts supplier Valeo SA. Like many auto stocks, Valeo struggled in 2018 with industry oversupply and the ongoing trade war. This led the stock to fall by more than half, giving it what I consider a very attractive valuation.
Valeo follows the European model of paying a single annual dividend based on the previous year's profits. Its 2018 dividend was €1.25, which would amount to slightly more than a 5% yield based on the current stock price of €24.55. Analysts estimate the company will earn around €3 per share in 2018, easily enough to maintain that dividend in 2019, and they still expect growth in 2019.
A 7.5 forward P/E ratio and over 5 percent dividend yield would be enough to get me to take any stock seriously, but valuation is not the only factor attracting me to the stock. The company is a leading supplier for two accelerating trends in the automotive industry: electrification and autonomous driving.
The company is a leader in 48V mild hybrid technology, which can deliver most of the fuel savings from of a full hybrid vehicle at a fraction of the cost by allowing the gas engine to turn off instead of idling while the vehicle is stopped. Beyond the technologies of today, Valeo has developed a full 48V electric powertrain system which is 20% less expensive than the high voltage systems used in most electric vehicles today. Although I expect a low voltage electric drivetrain will have lower performance than the typical high voltage system, and so be less attractive to car buyers, it could be extremely well suited to transportation services such as car-sharing services and autonomous taxis, such as the Autonom Cab, the world's first robo-taxi, which was presented by its French designer Navya. This all-electric, driverless vehicle relies on Valeo laser scanners, and LiDAR (light detection and ranging.)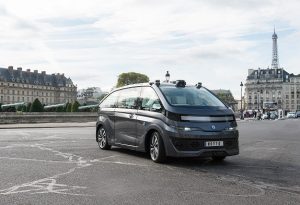 While I find it particularly difficult to predict which carmaker is likely to pull ahead in the race to make profitable electric and autonomous vehicles, I feel more confident investing in a part supplier that works with most of them.

Disclosure: Long PEGI, CWEN/A, CVA, AY, SSW, TERP, BEP, EVA, HIFR, GPP. INGXF, HASI, VLEEF, AQN. Tom Konrad earns consulting fees from JPS Global Investments for consulting on its Green Economy ...
more