Ten Clean Energy Stocks For 2019: Still Party Time
2019 has become another blockbuster year for the Ten Clean Energy Stocks model portfolio and, to a lesser extent clean energy stocks and the broad stock market as well. I'm frankly surprised to see the party continuing. The continued spiking of the metaphorical punch bowl by the Federal Reserve with interest rate cuts certainly has a lot to do with it. I had expected those cuts to be both fewer and less effective.
Which all goes to show that it's always a good idea to hedge one's bets in the stock market.At least in part because of this hedging, my real money Global Green Equity Income Portfolio GGEIP has somewhat underperformed the 10 Clean Energy Stocks model portfolio, up 38.5% and 44.5% for the year, respectively.Both remain well ahead of their benchmarks, however, with the clean energy income stock benchmark YLCO up 29.3% and the broad income stock benchmark SDY up a still-respectable 21.9%.
Will the party continue with a blowout Santa Claus rally? Only Santa knows, but I'm going to continue with caution in case he decides to show up with a lump of coal (have you seen coal stocks recently?) instead of nicer gifts.
(Click on image to enlarge)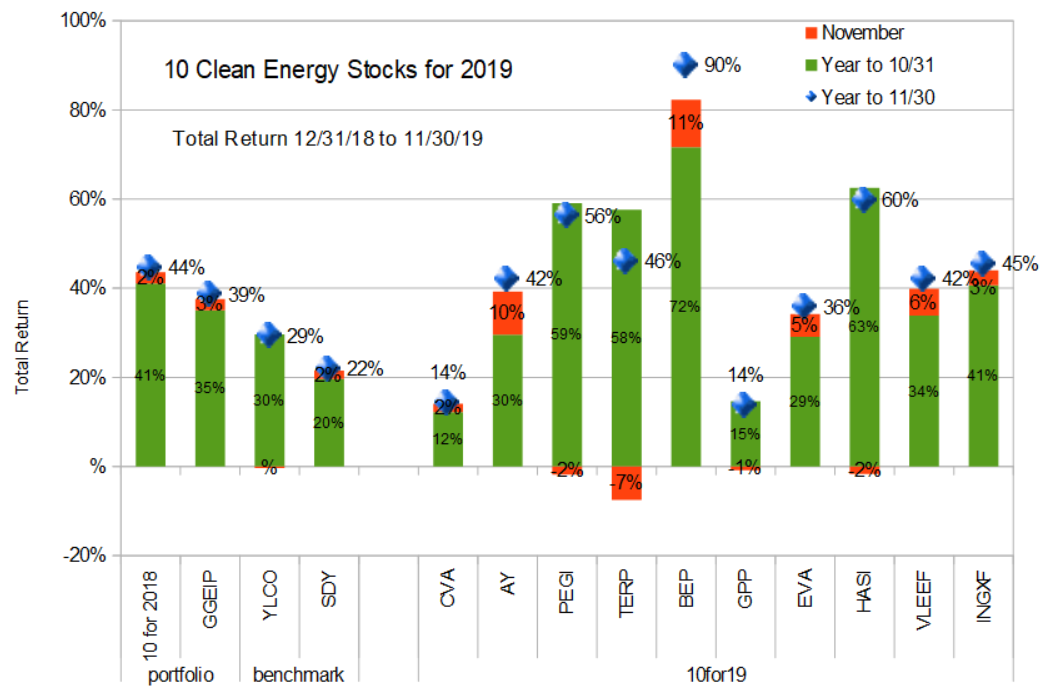 Individual Stocks
Last month I warned,
Hannon Armstrong HASI, Terraform Power (TERP), and Brookfield Renewable Energy Partners (BEP) are all stocks in which readers should be considering taking some profits if they have not already. I continue to think these three stocks are all ripe for price corrections.
Terraform saw that price correction, down 10% on a secondary offering of 14.9 million shares of stock at approximately $16.84 a share. This is business as usual for Yieldcos, which sell shares when prices are high to finance the purchase of income-producing clean energy investments. As long as such investments can be had at prices that expand per share cash available for distribution, such secondary offerings are good for long term shareholders. I generally consider the one or two months following a secondary offering as the best time to invest in Yieldco stocks, although Terraform's valuation even after the recent dip is not making me rush in with any buy orders. But it's certainly less overvalued than last month.
Disclosure: Long PEGI, CVA, AY, TERP, BEP, EVA, GPP. INGXF, HASI, FR.PA/VLEEF, CWEN-A.