EC

Taking Stock Of Small-Cap Earnings
Image: Bigstock
Our overall take on the Q2 earnings season, which is now in its final phase, has consistently been very positive. The notable positives in the earnings story include broad-based growth, material momentum on the revenue side, and continued positive revisions to estimates for the current period (2021 Q3).
Please note that when we are discussing corporate earnings in the aggregate, we are using the S&P 500 index (SPY - Free Report) as the handy proxy. The thinking behind this assumption is that the breadth and diversity of this large-cap index allows us to capture all business trends across all industries and sectors.
This is a fair assumption, but we should keep in mind that there are aspects of smaller and younger companies that are different from larger and more mature companies.
This note takes a look at the 2021 Q2 earnings season and the evolving earnings picture for the current and coming quarters for the small-cap S&P 600 (SPSM - Free Report) index to see if the aforementioned view makes sense.
Q2 Earnings Season Scorecard
For the S&P 600 index, we now have Q2 results from 561 companies or 93.3% of the index's total membership. Total earnings for these companies are up +205.5% from the same period last year on +35.2% higher revenues, with 69.3% beating EPS estimates and 80.7% beating revenue estimates. The proportion of these 561 S&P 600 members that have beaten both EPS and revenue estimates is 61.3%.
The comparison charts below put the Q2 performance in a historical context. For reference, we have also provided the corresponding comparisons for the large-cap S&P 500 index.
The EPS and revenue beats percentages for the S&P 600 (SPSM - Free Report) index.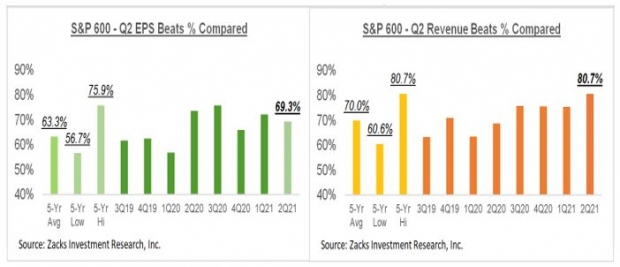 Image Source: Zacks Investment Research
Beats % for the S&P 500 index.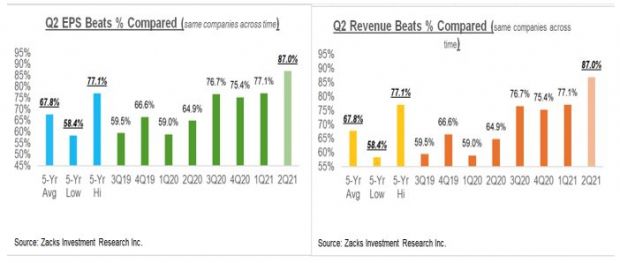 Image Source: Zacks Investment Research
What we see from this comparison is that most small-cap companies beat estimates as well, but the percentages for the large-cap index are effectively in record territory, while the small-cap index figures are merely good.
We provide plenty of coverage for what's happening with the large-cap earnings picture, the latest being this week's Earnings Trends report more