Surge Holdings: The Unknown Story Of High Potential Growth
Surge Holdings (SURG) is an almost unknown company with an interesting story to tell. They are rolling out their plan in 2019. If their plan is well received by consumers and corner markets – the upside potential over the next few years is very high. I estimate that the share price could be as high as $11 by 2021. I feel that the market does not yet understand this opportunity which is why the upside potential is so large.
Granted, this is a highly speculative stock where we are investing exclusively on future potential. But during 2019, we should see strong indications as to how successful Surge Holdings will be in executing their plan.
If you follow me on Seeking Alpha, you know me to be a dispassionate and analytical model designer. I create multi-factor 'smart-beta' models for family offices in addition to working as a part-time research consultant for a global quantitative asset management firm. What is it about the Surge Holdings story that has me thinking the upside potential is so big?
Who Or What Is Surge?
Surge Holdings is a merger between KSIX and True Wireless that completed in April 2018. KSIX was a digital media company and True Wireless provides government-subsidized wireless services in 5 states. Although elements from both companies play a role in what later became Surge Holdings - the opportunity cannot be found by analyzing these two firms. That is probably the biggest reason why this opportunity is still undiscovered.
What is the opportunity here?
Surge hopes to become the key player in a nationwide supply and distribution channel to corner stores. This network will sell partner products as well as various Surge-branded products and services. Surge has a couple of interesting twists on some common services that may resonate well with the target demographic. It takes a bit to tell the story, so let's start with the target market.
Surge Holdings' Target Demographic
Surge Holdings focuses on providing products and services to a group that is largely ignored and under-served. This group includes:
The bottom one-third of income earners in the USA
Individuals who are unbanked or under-served
51% of the population with invisible or sub-prime credit
77 million cellphone users without a contract
Any price-conscious consumer
Under-privileged teenagers with limited access to the Internet
71% of people (in this study) who shop 5 times or more a week at local corner stores
Access to basic services that we take for granted every day, such as having a smartphone plan or a bank account, can be a challenge if you live paycheck to paycheck with bad or invisible credit.
What are these products and services that Surge has developed? And how does Surge intend to get them into the hands of those who need them?
Surge Holdings' Products And Services
Three products and services will be discussed in this article. But Surge has additional ones.
SurgePhone Wireless offers free (and subsidized) wireless smartphone plans in the US
SurgeVolt 5XL Android Smartphone
SurgePays Visa – A pre-paid Visa (NYSE:V) card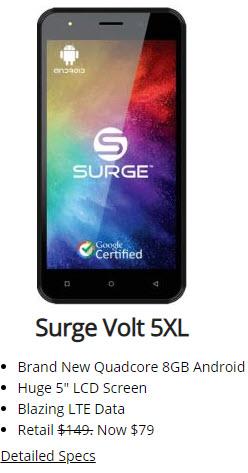 Free Smartphone Plans That Generate Revenue
Let's focus on the wireless market for a moment. You start with a $79 SurgeVolt smartphone or you can use your own GSM unlocked smartphone. You pick up a free SIM card at your local convenience store and get a free monthly cell-phone plan with the following:
Unlimited texting
10 hours of talking
1 GB of data

I can see the free phone plan as having wide appeal. Free unlimited texting is a major perk even when the monthly cellular data cap is reached. You neither need a credit check nor a contract to get this free plan. This service is not government subsidized. This service is available right now through the SurgePhone Wireless website and later through local corner markets.
Now I have seen other free plans which are not really free. There is another company that offers a free plan. The following is according to information found on the Internet.
On a GSM phone you get only 200mb of data, roughly 3.5 hours of talking and 500 texts.
Not bad right? Well, if you go over 200mb of data, you are charged $20 and are delivered 1 GB of data. You may also need to pay up to $50 for the SIM, activation fees and to move your existing phone number to the network. What initially seems free… isn't. In truth, their freemium model is not sustainable as their profitability relies on getting you to pay high prices for the data you receive.
This is not the business model of SurgePhone Wireless. Free is free and they found a way to make money off this - but not from the consumer. How do they achieve this?
How Does Surge Make Money By Offering A Free Plan?

Is this a profitable venture? Let's look at one hypothetical scenario.
Charities give out 1 million donated used smartphones to underprivileged teenagers and families across America
These phones are pre-loaded with a 'forever free' monthly smartphone plan
According to this Surge news release, $10 in revenue is generated off every subscriber
Assume a gross margin of 35–40% or $3.50-$4.00 in gross profit per sub every month
$42-$48 million in gross profit per year
The gross profit potential on just 1 million customers is ever greater than that. The Mulaah app continues to drive ads and revenue via the unlimited texting plan even after the 1 GB is used up.
If Surge Holdings can get 1 million free subscribers – what would this be worth in market cap?
Consider that the KBW Nasdaq Financial Technology Index has a median price-to-gross profit ratio 9.55
Assume Surge could retain $42 million in gross profit annually
$42 million x 9.55 = $401.1 million market cap
Current market cap is less than $50 million
What are the risks?
I downloaded the Mulaah app on my Xiaomi (XI) Mi A1 smartphone. The app changes the appearance of your home screen. Ads randomly pop up which are very small in the bottom of the screen and there are surveys you can take for extra points. Would I use this service? For a free cellular plan - absolutely! To knock $10 off my plan? I am not so sure.
Will consumers embrace this ad-supported network or will they gravitate toward another low-cost option?
Will the ad-supported cellular service be copied by a larger company with an existing customer base?
SurgePays Visa
Another life-enhancing product for the un-banked or under-banked is the SurgePays Visa card. This is an $11 billion industry.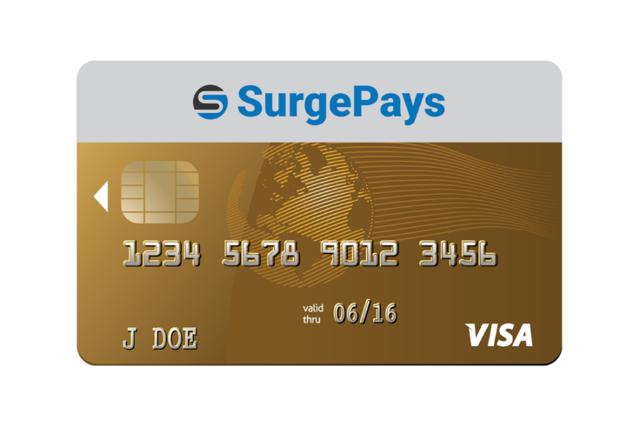 SurgePays Visa is a re-loadable Visa card. You load the card with money and use the Visa network even if you don't have a bank account or a credit rating. Most people are familiar with re-loadable cards but this one comes with a twist.
The card acts more like a checking account than a traditional re-loadable card. For example, you can access your account through an app and even transfer funds to family or friends. You can also upload your paycheck with a simple click of your cellphone camera.
These services are taken for granted by most of us who have a bank account. But consider what life is like for the estimated 8.4 million who are unbanked in the USA. Or the 18.7 million under-banked, who have a bank account, but still seek services such as check cashing from outside the banking system.
No more waiting in long lines to cash your check at Walmart
Not having to pay the $4-$8 check cashing fee
Disclosure:
I/we have no positions in any stocks mentioned, but may initiate a long position in SURG over the next 72 hours.
I wrote this article myself, ...
more