EC

Steer Clear Of These Three Popular Closed-End Funds
With my focus on higher yield investments, I often receive questions about various closed-end funds, often referred to as CEFs. CEFs are actively managed investment pools with shares that trade on the stock exchanges. A lot of these funds carry very attractive yields. The danger is that this is an asset class where it is hard to separate the good from the bad from the truly ugly. Here are some danger signs and CEFs that illustrate those dangers.
There are over 500 CEFs trading on the U.S. stock exchanges. A large portion of the funds own municipal bonds and pay dividends that are the pass-through vehicles for the tax-free interest paid by munis. These funds require different investment criteria and are a topic for another day. Today the focus is on CEFs in the taxable side of the investment universe. The group includes stock funds, bond funds, and hybrid funds.
Evaluating individual closed-end funds can be frustrating. Many fund managers are not very forthcoming about what they own in the portfolios and how they implement investment strategies. Here are some clues with examples that show potential closed-end fund problems.
Share price to NAV premiums. A defining feature of closed-end funds is that once a fund is launched, the management company will not buy back shares. Shares only trade on the stock exchange. That means a CEF will have two share prices, the market price and the net asset value (NAV). Both deep discounts and high premiums to NAV are danger signals. If you pay a premium for NAV shares, you are paying more than the portfolio assets are worth. Premiums can collapse, leading to losses in your fund investments.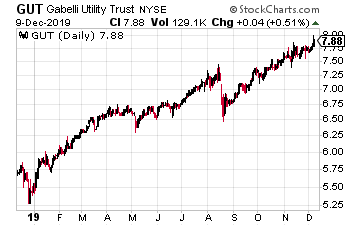 The Gabelli Utility Trust (GUT) currently trades at an eye-popping 59.7% premium to NAV. This means you pay almost $1,600 for $1,000 worth of fund assets. The chart shows how the share price has climbed much faster than the NAV, which has been stable throughout 2019.
From the price to NAV premium alone, this is a CEF to sell, not buy. If it was on an investor's buy list, the best course is to wait until the spread again reaches a mid-teens percentage, comparable to where it was in August 2018.
Disclaimer: The information contained in this article is neither an offer nor a recommendation to buy or sell any security, options on equities, or cryptocurrency. Investors Alley Corp. and its ...
more