SPX Futures: Small Gain
SPX futures are higher, nearly reaching the 50-Day Moving Average at 4012.62. As mentioned earlier, this appears to be an effort to end the quarter on a positive note, no matter how small the gain. However, it may be reaching a Cyclical Pivot point this morning that could end the bounce rather abruptly.
In today's op-ex, attempts are being made to elevate SPX over 3990.00 where long gamma begins. Max Pain is at 3970.00 and short gamma begins at 3950.00. There is a wall of calls at 4030.00 that may propel the SPX higher, should it be reached. Open interest appears to be bullish, giving an opportunity to sell the bounce. In other words, this is not the place to join the crowd.
ZeroHedge reports, "US futures extended gains for a second day on Wednesday as banking sector fears continued to ease, while Nasdaq futures got a boost from a rally in Asian tech stocks following the announced split of Chinese internet giant Alibaba which sent the Hang Seng up 2.1% and HSTECH +2.5%.
S&P 500 and Nasdaq 100 futures contracts were up 0.8% as of 7:30 a.m. in New York, trading at 4,034 and 12832 respectively.
(Click on image to enlarge)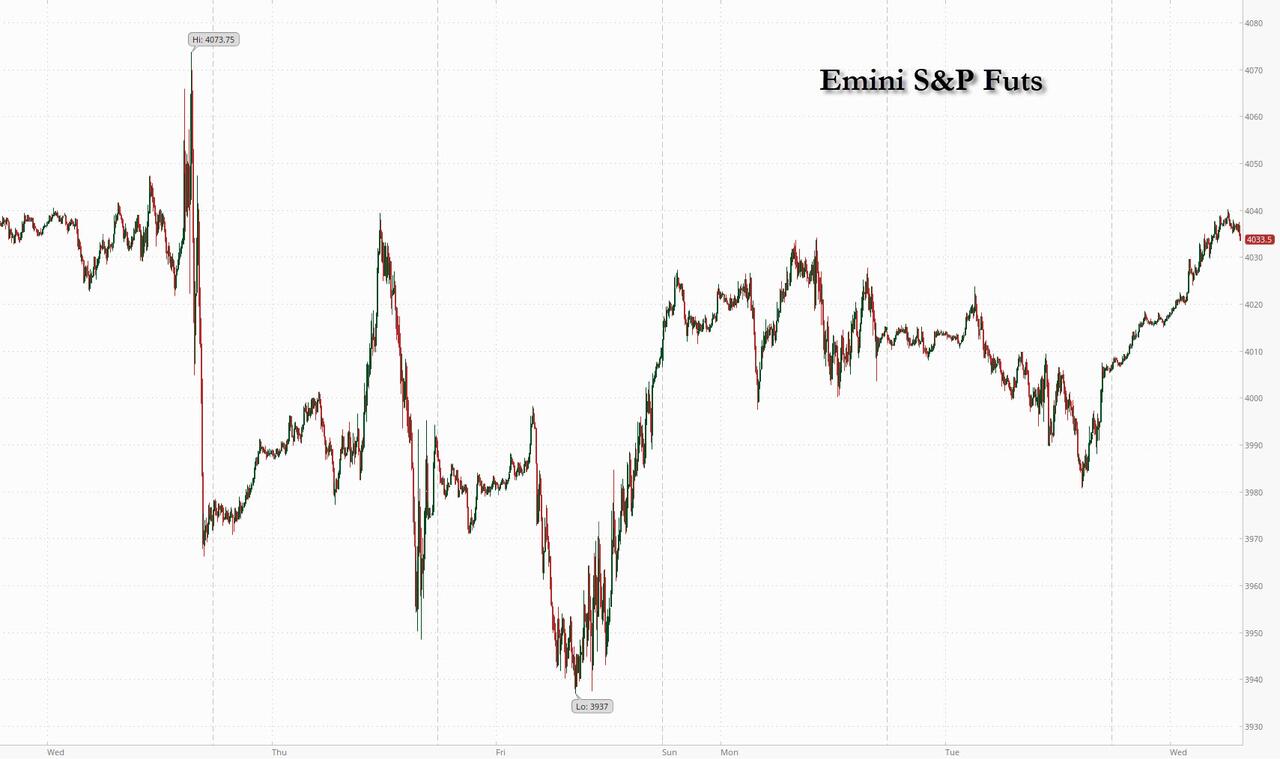 The S&P 500 is set for a flat month, while the Nasdaq 100 has surged nearly 5% in March and more than 15% in Q1 – its best quarter in nearly three years and its first rise in 5 quarters – as tech stocks, especially mega caps, found renewed favor with investors."
While NDX futures appear to be strong, they may have already peaked on March 22nd. The Cycles Model points down, with the next low at the end of April. This is no time to buy tech, mega- or otherwise.
In QQQ (307.12) options, Max Pain is at 305.00, a hotly contested level. Long gamma starts at 308.00, while short gamma begins at 304.00.
ZeroHedge observes, "Today was quiet from the headlines perspective; but a notable undercurrent is emerging beneath the surface as MegaCap tech – a trade that had been crushing it in recent weeks on the back of massive flows into a handful of tech gigacap "Generals", with Goldman noting that going back to 1990, the extent of S&P 500 outperformance over Equal-Weight S&P 500 this month – NDX>Small Caps by 13% MTD – has only been eclipsed twice (March 2020, June 2000)…
(Click on image to enlarge)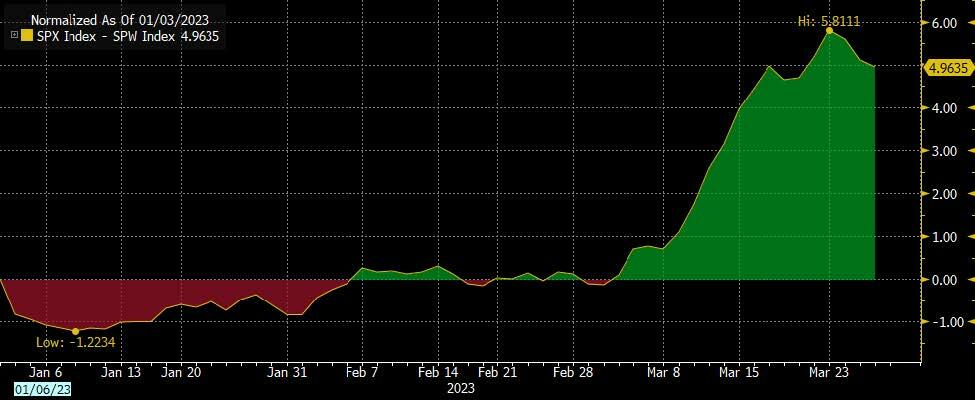 … has started to underperform the broader market again while recent laggards (Energy/Materials) are outperforming."
---
More By This Author:
SPX Futures: Above The Descending Trendline
Short Gamma Suppressing The VIX
A Review Of Indices In The New Year
Nothing in this email or article should be construed as a personal recommendation to buy, hold or sell short any security. The Practical Investor, LLC (TPI) may provide a status report of ...
more