Sometimes The Smartest Guys Make Poor Choices
Sometimes the smartest guys in the room make poor choices.
Earlier this year, Harvard University announced that its $50 billion-plus endowment no longer invests directly in fossil fuels. And it doesn't plan to, ever again.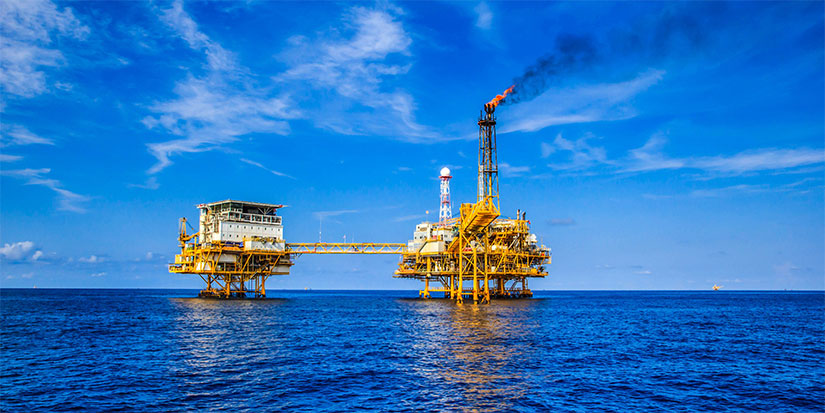 The stance against investing in fossil fuels goes something like this…
First, fossil fuels, or "brown assets," are bad for the planet. And second, it's virtually certain that green energy will replace them. In other words, fossil fuels will go the way of the buggy whip. And their stocks will sink to zero.
Let's get one thing out of the way—I'm not going to tell you whether fossil fuels are good or bad. That's not the point. But I will say that fossil fuels are not disappearing anytime soon. And the companies that produce them can still deliver impressive gains to shareholders.
As I've mentioned before, 83% of the world's energy supply comes from fossil fuels.
That figure has barely budged since 2009. Sure, natural gas has taken some share away from coal. But by and large, fossil fuel use has not changed, as you can see in the chart below.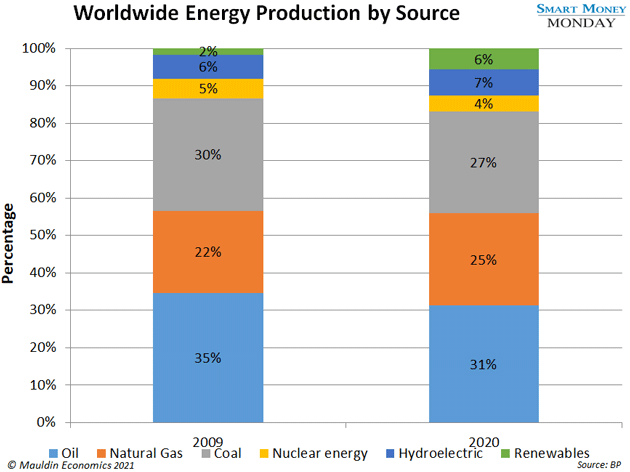 The market seems to recognize this…
The Vanguard Energy ETF (VDE), which holds a basket of fossil fuel stocks, has crushed the S&P 500 this year. It's soared 60%, while the S&P hasn't even done half as well.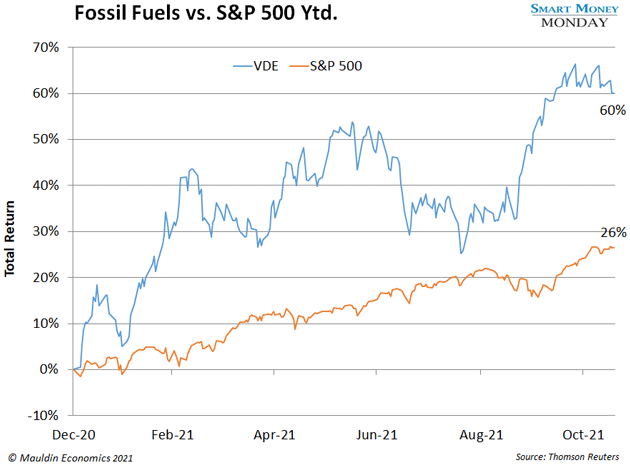 Will this continue? I think it will.
Duke University Professor Alon Brav and his coauthor J.B. Heaton summed up the situation well in a recent paper: "Brown assets could turn out to be highly valuable if the world fails to transition out of the high-carbon economy."
Frankly, many countries are in no rush to go green.
A zero-carbon world would require massive cooperation from countries like China, Russia, and Saudi Arabia. Together, they account for 27% of global oil production. And China alone accounts for 14% of its consumption.
These countries do not plan to evolve. As Saudi Energy Minister Prince Abdulaziz bin Salman recently said: "We are still going to be the last man standing, and every molecule of hydrocarbon will come out."
That doesn't sound like someone racing to turn off the oil spigot.
Fossil fuel stocks have had a great year. But many are still cheap.
Chevron (CVX), for instance, trades at a 4.6% dividend yield. And it's a good option for investors looking for more exposure to fossil fuels. I own shares, and so does Warren Buffett's holding company, Berkshire Hathaway. In fact, Berkshire picked up more Chevron shares in the 3rd quarter.
BP (BP) and Exxon Mobil (XOM) are great options, too.
One of my favorite fossil fuel plays is Chesapeake Energy (CHK).
It's riskier than the oil majors I just mentioned. The company emerged from bankruptcy less than a year ago. But it's set to return lots of cash to shareholders through dividends and share repurchases.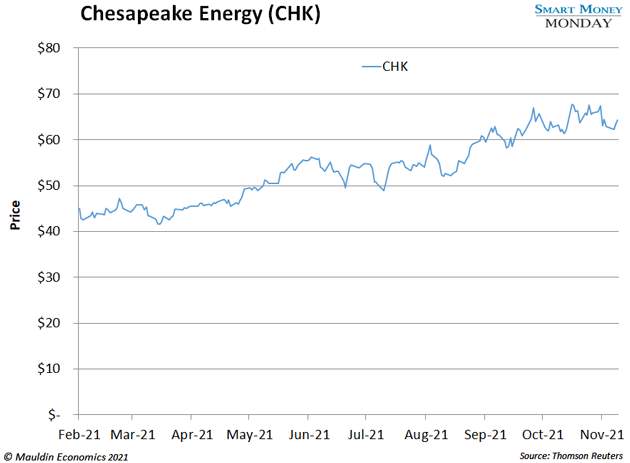 The stock, which I own a bit of, still carries some stigma from the bankruptcy. But the company has put its troubles behind it.
Today, Chesapeake has a reasonable 2.8% dividend yield. And it pays the dividend out of profits—not additional borrowing. The company has a rock-solid balance sheet, with very little debt relative to its free cash flow. Plus, after its recent purchase of Vine Energy, Chesapeake is one of the cheapest energy companies out there.
Keep in mind, I'm not some kind of fossil fuel evangelist.
Disclaimer:The Mauldin Economics website, Yield Shark, Thoughts from the Frontline, Patrick Cox's Tech Digest, Outside the Box, Over My Shoulder, World Money Analyst, Street Freak, Just One ...
more