EC

Smart Shoppers Like Sales: Ross And Costco
In recent years retail's sweet spot has been "off-price" merchandise. That means high-quality, yet deeply discounted goods. People want nice things but are insisting on bargain prices.
Ross Stores (ROST) and Costco (COST) are businesses that have prospered along with that trend. Both companies appear on track to post all-time record earnings in their current fiscal years. Shares of each have risen significantly since the end of The Great Recession.
These firms make money because educated consumers know what things are worth and appreciate getting them at marked-down levels.
Should you be buying, or holding these stocks now, with the expectation of further gains?
Those who buy stocks in the way consumers buy other items won't be purchasing Ross or Costco at today's quotes. Neither appears to offer much upside over the coming year. Both ROST and COST are pricey versus their historical valuation metrics.
The 2008-09 recession left ROST available to investors at a single-digit forward multiple. ROST sold at P/Es ranging from 10.5x to 14.0x during each of the next four calendar years (green-starred below). Its asking price escalated in recent years as momentum chasers continued to jump on board.
From 2010 through 2016 ROST sported an average multiple of 16.9x. Its typical yield was about 1.05%.
Prior to 2017, there were three previous periods of clear overvaluation (red-starred). Pullbacks started at P/Es ranging from 20.0x to 22.6x. Ross Store's Jan. 13, 2017, multiple of 21.4x its FY 2017 projection (ends Feb. 3, 2018) falls right in the midst of that "toppy" zone.
ROST's long-term holders saw eventual gains. Failure to sell at overpriced valuations forced them to sit through drawdowns of 25.1% (from $35.40 to $26.50), 24.6% ($41.00 to $30.90) and 23.3% ($56.70 to $43.50) over the following 6 – 9 months.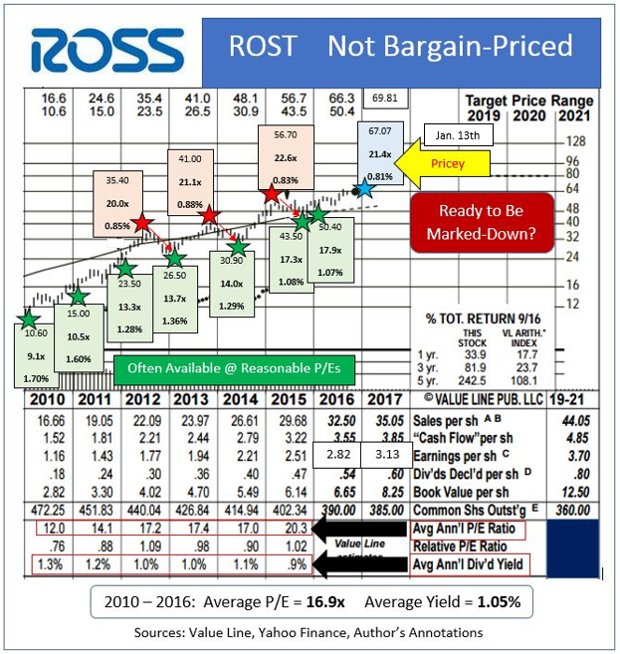 A regression towards a more typical P/E could send ROST back to the $53 – $60 range, even if the coming year plays out well. Unforeseen adversity could make things even worse.