Sell These Stocks That Will Take A Long Time To Recover After This Crisis
For over a month now, I've been providing you with predictions about who will come out on top of the new normal that is quickly being established by the novel coronavirus.
I've told you about stay-at-home stocks, work-from-home stocks, and stocks that will benefit from an acceleration in the move to do business online. The new normal will have clear winners, many of which, like Zoom (ZM), Docusign (DOCU), and Netflix (NFLX). have already made massive moves to the upside.
But, there is a flip side to winners like ZM, DOCU, and NFLX. Some companies will struggle, possibly for many years to come, to execute business models that will not be negatively impacted by the fallout from the pandemic.
You already know some of these companies. They're on business television and in business news articles constantly, most often begging for some form of bailout money from the federal government. The airline, hotel, and restaurant industries are in for a rough road ahead, and a very slow recovery.
While I love telling you about companies that will come out of this crisis as winners, I also think it's important to identify some specific industries, and companies, that could be dead money for your portfolio.
These are stocks I would avoid short term, and, unless they can innovate their business models in a new direction, they will likely remain hard to invest in for the long term.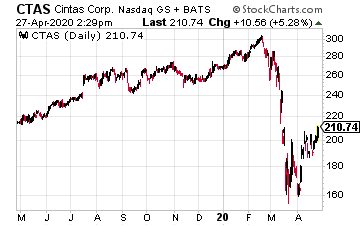 The first of these is Cintas (CTAS). Cintas is in the business of providing "corporate identity uniform programs." Think of all the people you see working in the service industry that wear clothes with their company's name. Flight attendants, the counter clerk at Marriott (MAR), the servers at your favorite casual chain restaurant. See a pattern?
A large portion of CTAS' customers interact directly with the public. And we know exactly what that means. These customers will be some of the slowest to come back, and even when they do, there is a high likelihood there will be less demand for these types of businesses for years to come.