Recapping Another Memorable Week For Energy
None of us will forget the past couple of weeks. Investors and money managers are grappling with collapsing markets, working remotely and the challenges of ever stricter controls on our movement.
Below we'll highlight some information that investors may have missed, combined with what we've learned from multiple conversations.
Pipeline companies that said anything publicly were reassuring. Ten days ago and well into the market crisis, Oneok (OKE) cut growth capex by 20% and reaffirmed 2020 guidance. On Monday Enbridge (ENB) provided a reassuring assessment of their business prospects (see Enbridge Fireside Chat). Since then, Pembina (PBA) cut growth capex by 40% and reaffirmed EBITDA guidance, and Enterprise Products Partners (EPD) declared their normal quarterly distribution. Targa Resources (TRGP) slashed their distribution by 90% which was no great surprise, and lowered growth capex by 30%. Williams Companies (WMB) announced a poison pill lasting a year, to fend off any unscrupulous buyer seeking to acquire the company at a rock-bottom price.
MLP closed end funds and leveraged MLP exchange traded notes were almost wiped out by forced develeraging (see The Virus Infecting MLPs). Incredibly, many of these funds, run by well-known MLP managers such as Tortoise and Kayne Anderson, were leveraged up to 40% as recently as the end of February. In looking at the size of these funds and volume figures, it's plausible that they were a significant portion of the selling in this sector earlier last week. While coronavirus was unpredictable, the arrogance of these fund managers in maintaining maximum leverage exposes a complete absence of risk management at their firms, and others like them. They have caused a steeper fall than would have happened otherwise. Their NAVs have shrunk far enough that they're now too small to have much impact going forward.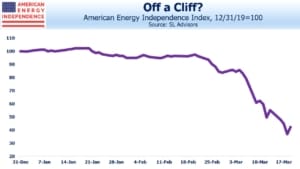 Entering 2020, midstream energy infrastructure was set for a doubling of Free Cash Flow (FCF) (see Updating the Coming Pipeline Cash Gusher). The analysis was based on guidance all provided prior to the coronavirus outbreak, although recent updates have been encouraging. We had estimated 2020 growth capex at $37 billion for the components of the American Energy Independence Index (AEITR). Average reductions of 20% would free up $7 billion in FCF, and since we're almost through 1Q20 they represent a bigger cut in previously planned spending for the remainder of 2020. We see the industry as broadly in pretty good shape to withstand the type of drop in energy demand that seems likely.
Disclosure: We are invested in ENB, EPD, OKE, PBA, TRGP and WMB.
The information provided is for informational purposes only and investors should determine for themselves whether a ...
more