Quants Discover A Guaranteed Source Of Alpha: Just Trade Based On The Growth Of The Fed's Balance Sheet
It was almost nine years ago when - in a world that was becoming increasingly centrally-planned by central banks and disconnected from fundamentals - we first recommended to readers that the simplest way to generate alpha and outperform the broader market was to do the opposite of what Wall Street's professionals were doing, and go long the most hated stocks. This is what we said one year later when reviewing and doubling down on this very strategy:
"...in a world in which nothing has changed from a year ago, and where fundamentals still don't matter, what is one to do to generate an outside market return? Simple: more of the same and punish those who still believe in an efficient, capital-allocating marketplace and keep bidding up the most shorted names."
Fast forward to early 2019 when none other than Bank of America confirmed that we were correct: as the bank's chief equity strategist Savita Subramanian wrote last April, "over the last several years, buying the most underweight stocks by large cap active funds and selling the most overweight stocks by large cap active funds has consistently generated alpha."
As the bank added, the 10 most neglected stocks had outperformed the 10 most crowded stocks by an annualized spread of 8.4% on average during the first 15 days of each quarter since 2012. This is shown in the chart below, which reveals that buying the 10 most underweight stocks and selling the 10 most overweight stocks by active funds has generated alpha every year in the past five except 2017.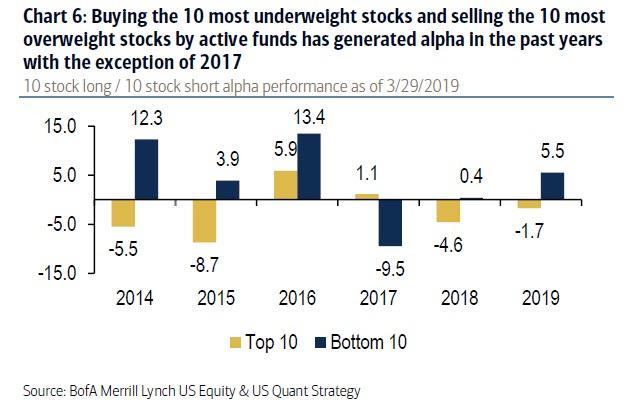 As we said nearly a decade ago, going long the most shorted names has been a source of incremental alpha for much of the past decade (a time when most hedge funds had abandoned alpha generation altogether, and instead focused on levered beta strategies in hopes of halting the "2 and 20" model).
But what if there is an even simpler strategy to beat the market and generate alpha? According to SocGen (SCGLY) quants including Solomon Tadesse, Andrew Lapthorne, and others, who last week penned a note titled "Can quants make money by tracking the Fed books?" there is, and it involves that other strategy we have been pounding the table on for much of the past decade, namely to trade alongside the Fed's balance sheet which has become the dominant price setter in this upside-down market.
Before we get into the details of the proposed trade, here is some background which we provide for the benefit of those who still claim the Fed does not influence stock prices:
"Monetary policy historically dictates asset price dynamics, with low interest rates and accompanying expansionary monetary policy supporting risk asset rallies and monetary contractions by contrast driving market retreats. This has increasingly been more obvious since the Great Financial Crisis of 2008, where financial market reactions appear to have become increasingly aligned and dependent on central bank actions.

"Indeed, with the advent of QE programs as monetary policy tools in the wake of the 2008 GFC, the trajectories of market performance and the Fed balance sheet appear to have converged into lock step. Total assets on the Fed balance sheet have expanded from $2.24 trillion at the end of 2008 to the current level of about $7 trillion, for 216% growth, while the S&P 500 rose from 903.25 to about 3340, netting cumulative growth of about 270% during the same period.

"Over the course of the current pandemic, the Fed balance sheet has increased from $4.67 trillion on March 18, 2020 (a week before the market bottom) to $7.01 trillion, growing by 50%, while the S&P 500 has risen by 42% during the same period."
Disclosure: Copyright ©2009-2020 ZeroHedge.com/ABC Media, LTD; All Rights Reserved. Zero Hedge is intended for Mature Audiences. Familiarize yourself with our legal and use policies ...
more