Peloton Buys Fitness-Giant Precor For $420MM In Largest Ever Acquisition
Peloton (PTON) is moving out of the basement (or wherever it is you store your exercise bike with the iPad superglued to the front).
The company which has ridden the workout from home craze better than anyone announced on Monday it had agreed to buy fitness-equipment giant Precor for $420 million to gain U.S. manufacturing capabilities and new expansion opportunities.
In the press release, Peloton said it "plans to establish U.S. manufacturing capacity, boost research and development capabilities with Precor's highly-skilled team, and accelerate Peloton's penetration of the commercial market. Peloton plans to produce connected fitness products in the U.S. before the end of the calendar year 2021."
Precor provides commercial-grade stationary bikes, ellipticals, treadmills, climbers, and strength-training equipment to gyms, hotels, apartments, college campuses, and other corporate locations. Thus far, Peloton's business has focused on sales to consumers, but the company plans to use Precor's relationships to expand into the commercial market.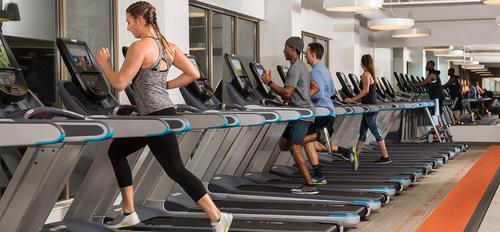 Precor is a division of Finnish sporting goods company Amer Sports, which is owned by an investor consortium including ANTA Sports, FountainVest Partners, Anamered Investments Inc., and Tencent Holdings Limited. The transaction is expected to close in early calendar year 2021 and is the largest to date for the New York-based maker of pricey bikes and treadmills.
"We have seen a ton of growth. No one would wish a global pandemic on anybody, but it's been a tailwind for our business," Peloton President William Lynch said. "Keeping up with that growth, which has been a moving target, has been a big company priority. As we've been investing in scaling our manufacturing, this is an area where Precor is very strong," he added.
Peloton shares - and sales - have soared this year as the pandemic shut gyms and forced people to work out from home, however, the company has struggled to keep up with demand. That led to long wait times and frustrated customers. Existing manufacturing facilities overseas will continue operating, according to the company. The acquisition will add 625,000 square feet of U.S. manufacturing capacity with in-house tooling and fabrication, product development, and QA capabilities. Peloton will be able to control the entire production process, from design to ship and increase total production scale. By making fitness equipment closer to U.S. consumers, Peloton will be able to deliver connected fitness products to customers sooner.
Disclaimer: Copyright ©2009-2020 ZeroHedge.com/ABC Media, LTD; All Rights Reserved. Zero Hedge is intended for Mature Audiences. Familiarize yourself with our legal and use policies every time ...
more