Palantir Stock Forecast 2025: $4 Billion Growth In Revenue
Palantir has climbed 186% since its IPO in September 2020 - far exceeding analyst expectations. And the PLTR stock forecast for 2025 looks even more promising now.
A data mining and intelligence leader, Palantir Technologies Inc. (NYSE: PLTR) specializes in data analysis. The company works with government agencies and corporations on surveillance and security using high-powered artificial intelligence (AI). Back in 2011, Palantir helped locate Osama bin Laden.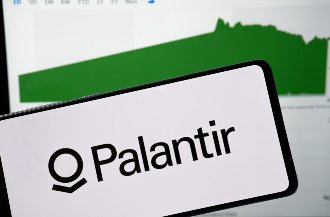 More recently, its tech is being used to trace COVID-19 infection rates, track medical supply chains, and even predict outbreaks in hot zones.
Partnerships with these government agencies and corporations have put this tech stock in a great position within the Big Data industry, a market that was worth $138.9 billion in 2020. It's expected to reach more than $229.4 billion by 2025.
Because of that growth, Palantir expects to generate $4 billion or more in revenue by 2025. Right now, the company sits at $1.33 billion.
So, let's take a closer look as to how PLTR will make this move higher.
How Palantir Revenue Will Reach $4 Billion by 2025
Palantir expects revenue growth of more than 30% from 2021 to 2025. It's an optimistic forecast that suggests Palantir's revenue could rise to over $4 billion in fiscal 2025.
Every year since it's been public, Palantir has continually grown revenue by an average of 31% - right on track to reach that revenue goal.
That's thanks to the company's ability to generate sales through lucrative partnerships with government agencies and corporations. This blend of government and commercial contracts has acted as a catalyst for Palantir.
Take its work with International Business Machines Corp. (NYSE: IBM) on artificial intelligence (AI), for example.
Palantir's partnership with IBM makes it easier for businesses to build and deploy AI applications. Between Palantir's software with IBM Cloud Pack for Data, IBM Watson, and Red Hat OpenShift, businesses will be able to use AI to analyze data across all their systems.
Disclaimer: Any performance results described herein are not based on actual trading of securities but are instead based on a hypothetical trading account which entered and exited the suggested ...
more