Okta: Strong Growth And Abundant Potential
Okta (Nasdaq:OKTA) is a high-growth leader in identity services, an area with tremendously promising opportunities for growth. The business was already producing outstanding performance before the coronavirus pandemic appeared on the scenario, and a globally distributed workforce in times of shelter at home policies all over the world is driving accelerating adoption for identity services.
Okta stock is not cheap at all at current prices, but the business is strong enough to grow into its valuation over the next several years.
An Outstanding Growth Business
The company provides identity solutions for the workforce and customers. Workforce identity is the largest and most established segment, and it guarantees that the right employees and contractors will get access to the right networks and data in due time. Customer identity is a relatively new growth area for the company, and Okta is focused on both identity security and providing a seamless experience to the end-user in this business.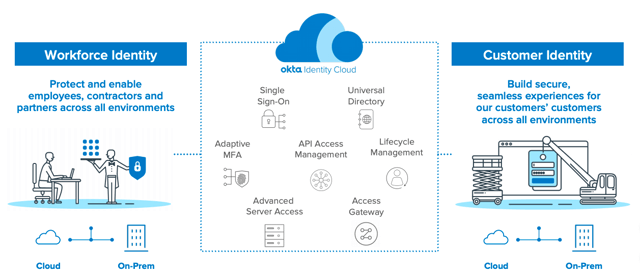 Source: Okta
Okta is benefiting from major growth tailwinds based on multiple drivers.
Due to the rapid growth of cloud and hybrid IT, identity has become increasingly complex as organizations move to the cloud.
The global trend toward digital transformation means that every company is now a technology company, and businesses of all kinds need help at implementing identity solutions that can meet their specific requirements.
Cybersecurity is a major concern nowadays. According to management, more than 70% of hacking-related breaches are caused by stolen credentials, and identity protection is of paramount importance.
When considering the size of the total addressable market, the company believes that it could be as high as $55 billion. Okta is expected to make $771 million in revenue during the fiscal year 2021, so the company is barely scratching the surface in comparison to its long-term growth opportunities.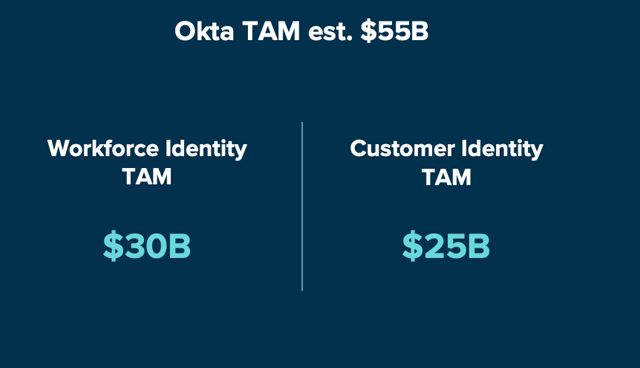 Source: Okta
Financial performance has been truly outstanding in recent years, with revenue growth reaching 54% annually since 2017. Management comments during the company's investor day on April 1 confirmed that the business keeps firing on all cylinders based on recent data, and several research firms increased their price targets for Okta after the conference.
Disclosure: I/we have no positions in any stocks mentioned, but may initiate a long position in OKTA over the next 72 hours.
Disclaimer: I wrote this article myself, and it expresses my own ...
more