E

Nxt-ID Gets A New Lease On Life
[TM Editors' Note: This article discusses a penny stock and/or microcap. Such stocks are easily manipulated; do your own careful due diligence.]
Nxt-ID (NXTD) is going to split its two main businesses. On the one hand, it's got its health business called LogicMark (PERS, Personal Emergency Response Systems) which is responsible for nearly all its revenues.
On the other hand, it's got a promising finance business called FitPay which will be distributed as PartX to shareholders in a tax-free distribution. The plan was announced already last September but hit a roadblock in the existing debt covenant.
But this has now been removed by a new (and somewhat cheaper) finance deal and the plan will go ahead. The shares have not been doing well as LogicMark hasn't generated enough cash to pay the interest on its debt while FitPay has seen its main business decline, but we will argue that it's likely better times are ahead.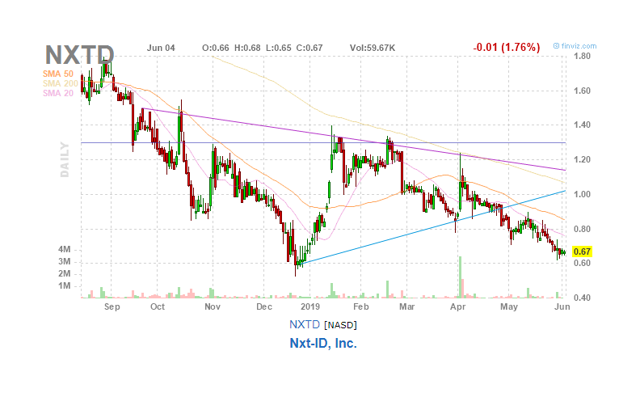 The reasons for our optimism are:
LogicMark will be relieved of financing FitPay, generates surprisingly high gross margins, just won what could be a break-through distribution deal with Walmart (WMT), and last but certainly not least, LogicMark produced positive free cash flow in Q1.
FitPay's TRM (Token Requester Management) Platform has several advantages and is highly scalable and leverageable.
But there are also considerable risks:
The company received a delisting notice
PartX lacks funds
LogicMark has substantial debts
LogicMark
LogicMark is Nxt-ID's other main business and the one responsible for almost all of its revenue, which remains after FitPay is split off.
LogicMark produces PERS, or Personal Emergency Response Systems, enabling two-way communication, medical device connectivity and patient data tracking of key vitals through sensors, biometrics, and security enabling home health care. The PERS market splits into different categories:
Monitored (subscription based)
Non-monitored (one-off fee)
Landline
Mobile
Standalone
The company doesn't sell directly to consumers but uses dealers, distributors and the VA (United States Department of Veterans Affairs). The latter is a really strong channel growing at 7% a year and management expects this to grow 7%-10% in 2019.
Management is also pursuing other government channels. The company doesn't sell directly to end customers but leverages partnerships with companies like Walmart and Walmart.com, and BestBuy (BBY).
The market is driven by several trends:
Demographics
The rise of virtual care or telemedicine
Rising healthcare cost
The market is expected to grow at a compound annual growth rate ("CAGR") of 5.83% to $8.4 billion in 2020 according to IndustrryARC, (from the 2018 10-K):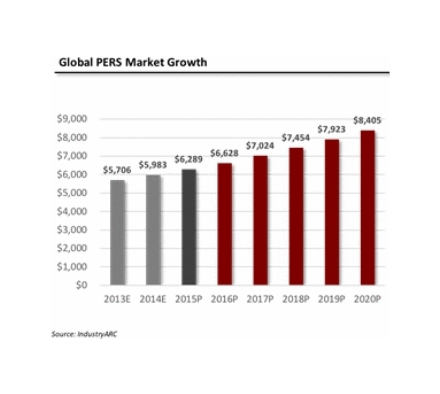 The latest product, launched in December, the Notifi911 is a wearable cellular pendant that connects directly to 911 at the touch of a button, and this can now be bought through WalMart:
Notifi911 is a self-contained unit that does not require a base station, landline or cellular plan, follows extensive in-store trials. There is no annual contract, no monthly charges and no monitoring fees to use the device, which offers a distinct value proposition and disruption over other monitored devices currently on the market by providing consumers with a product at less than 10 percent of the cost over the lifetime use of monitored devices offered by competitors.
Walmart could be a bit of a breakthrough and we are aware that these cheaper pendants have other use cases besides frail pensioners at home. What to think of hikers, climbers, fisherman, hunters, and children.
Indeed, some national parks are beginning to consider these devices for safety reasons for all visitors. Then there are other classes of people exposed to a dangerous situation like hotel workers or people who visit homes.
Management hinted at upcoming developments for these other segments during the latest couple of conference calls, for instance, Q1CC:
we're in the process of developing solution opportunities in other key market. So we're doing testing now in new channels such as real estate. We are in the process of moving forward on strategic opportunities in the hospitality segment, and are looking for key partners in other areas to help us continue to drive our mPERS strategy as we move forward.
The company is also working on a WiFi product to replace the landline products which are in slow decline as now even older people are shifting away from landlines (much of the growth of LogicMark comes from the cellular product sold via the VA). The company is also upgrading their wireless devices to 4G.
FitPay
PartX will constist of FitPay, which is a contactless payment technology which is implementable (as a white label solution or under the company's own brand) on smart devices (smart watches, cards, etc.). From the company website:
Disclosure: This article is part of a new "UnderCovered" series of exclusive articles featuring companies with limited coverage. Authors are compensated by TalkMarkets for their time, and ...
more