Nvidia Joins The Trillion Dollar Club - Will It Last?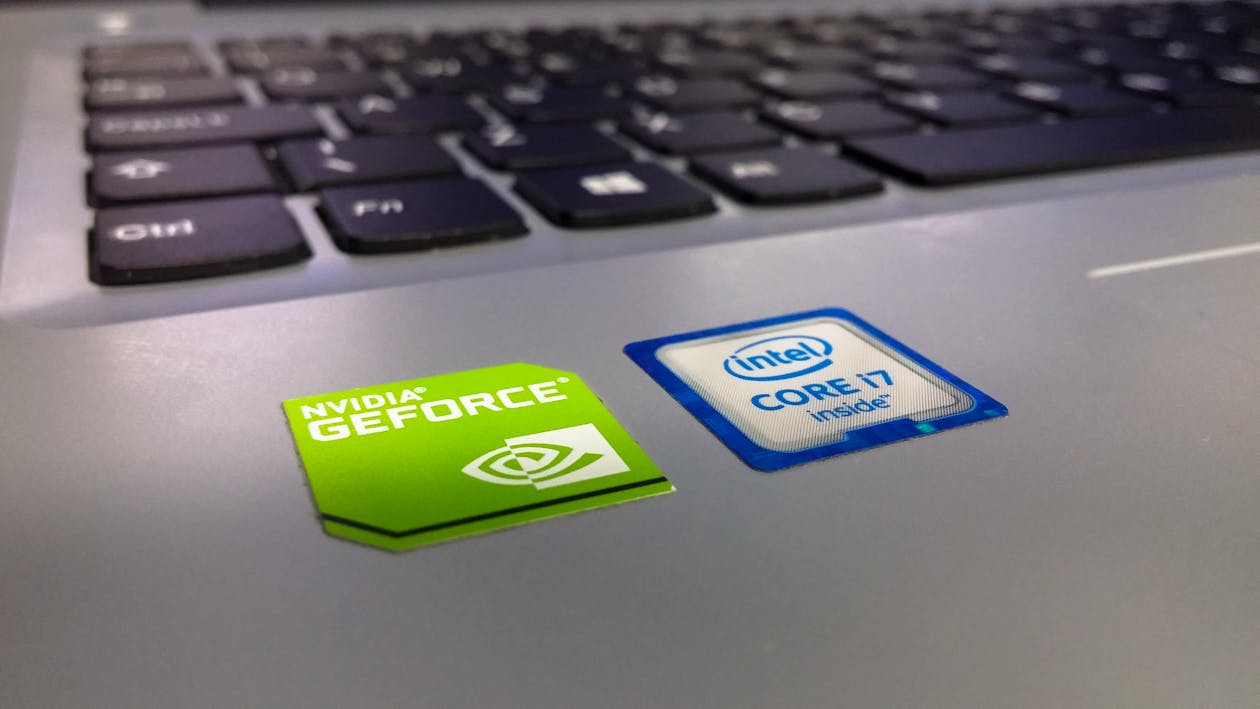 Image Source: Pexels

Chipmaker Nvidia is now worth nearly as much as Amazon.
America's largest semiconductor company has vaulted past the $1 trillion market capitalization mark, a milestone reached by just a handful of companies including Apple, Amazon, and Microsoft. While many of these are household names, Nvidia has only recently gained widespread attention amid the AI boom.
In the graphic below, Visual Capitalist's Dorothy Neufeld and Bhabna Banerjee compare Nvidia to the seven companies that have reached the trillion dollar club.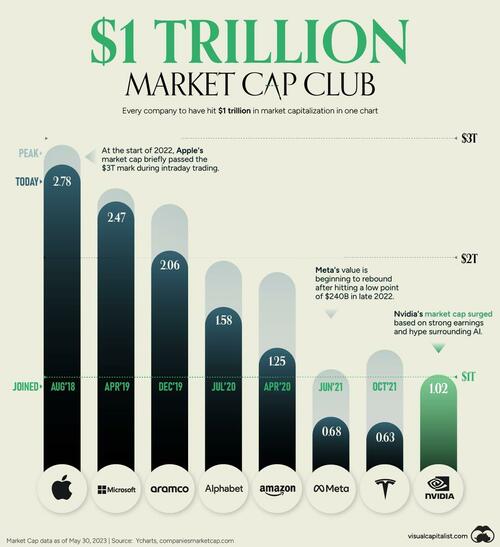 Riding the AI Wave
Nvidia's market cap has more than doubled in 2023 to over $1 trillion.
The company designs semiconductor chips that are made of silicon slices that contain specific patterns. Just like you flip an electrical switch by turning on a light at home, these chips have billions of switches that process complex information simultaneously.
Today, they are integral to many AI functions—from OpenAI's ChatGPT to image generation. Here's how Nvidia stands up against companies that have achieved the trillion dollar milestone: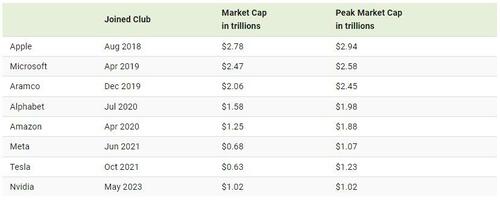 Note: Market caps as of May 30th, 2023
After posting record sales, the company added $184 billion to its market value in one day. Only two other companies have exceeded this number: Amazon ($191 billion), and Apple ($191 billion).
As Nvidia's market cap reaches new heights, many are wondering if its explosive growth will continue—or if the AI craze is merely temporary. There are cases to be made on both sides.

Bull Case Scenario
Big tech companies are racing to develop capabilities like OpenAI. These types of generative AI require vastly higher amounts of computing power, especially as they become more sophisticated.
Many tech giants, including Google and Microsoft use Nvidia chips to power their AI operations. Consider how Google plans to use generative AI in six products in the future. Each of these have over 2 billion users.
Nvidia has also launched new products days since its stratospheric rise, spanning from robotics to gaming. Leading the way is the A100, a powerful graphics processing unit (GPU) well-suited for machine learning. Additionally, it announced a new supercomputer platform that Google, Microsoft, and Meta are first in line for. Overall, 65,000 companies globally use the company's chips for a wide range of functions.

Bear Case Scenario
While extreme investor optimism has launched Nvidia to record highs, how do some of its fundamental valuations stack up to other giants?
As the table below shows, its price-to-earnings (P/E) ratio is second-only to Amazon, at 214.4. This shows how much a shareholder pays compared to the earnings of a company. Here, the company's share price is over 200 times its earnings on a per share basis.

Consider how this looks for revenue of Nvidia compared to other big tech names:
$NVDA $963 billion market cap, 38x Revenue
$MSFT $2.5 trillion market cap, 12x Revenue$TSLA $612 billion market cap, 7.8x Revenue$AAPL $2.75 trillion market cap, 7.3x Revenue$GOOG $1.6 trillion market cap, 6.1x Revenue$META $672 billion market cap, 6x Revenue pic.twitter.com/VgkKAfiydx

— Martin Pelletier (@MPelletierCIO) May 29, 2023
For some, Nvidia's valuation seems unrealistic even in spite of the prospects of AI. While Nvidia has $11 billion in projected revenue for the next quarter, it would still mean significantly higher multiples than its big tech peers. This suggests the company is overvalued at current prices.

Nvidia's Growth: Will it Last?
This is not the first time Nvidia's market cap has rocketed up.
During the crypto rally of 2021, its share price skyrocketed over 100% as demand for its GPUs increased. These specialist chips help mine cryptocurrency, and a jump in demand led to a shortage of chips at the time (which was also exaggerated by the supply chain disruptions cause by COVID lockdowns).
As cryptocurrencies lost their lustre, Nvidia's share price sank over 46% the following year.
(Click on image to enlarge)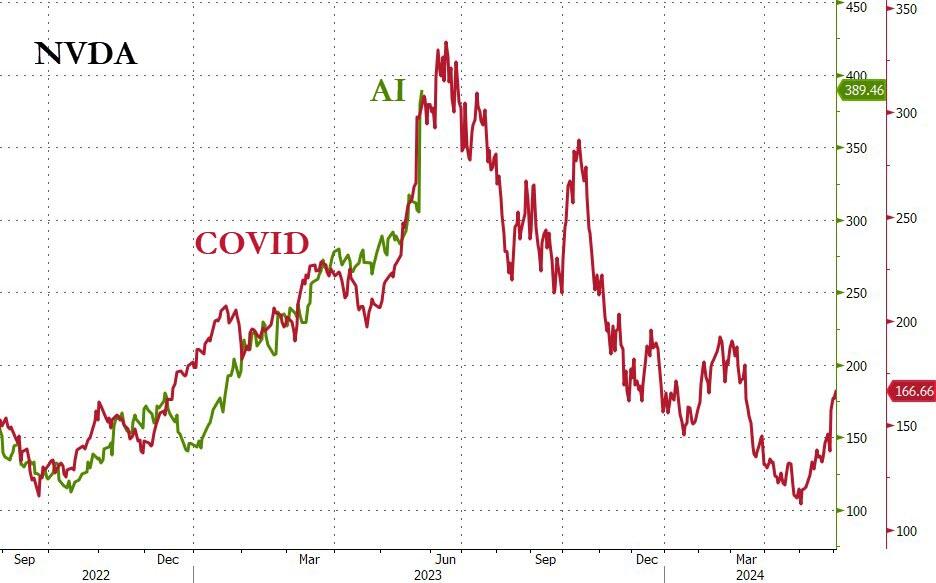 By comparison, AI advancements could have more transformative power. Big tech is rushing to partner with Nvidia, potentially reshaping everything from search to advertising.
Finally, TS Lombard had some bigger-picture thoughts that many on Wall Street appear to have missed:
In the strictly philosophical sense of the word, the current generation of AI has a strong tendency to bull****, which means it is neither reliable nor trustworthy.

And despite the claims of AI enthusiasts – which at times border on mysticism – there is no guarantee that future versions of the technology will overcome these problems, or that the industry will continue along the "exponential curve" that is supposed to lead to Artificial General Intelligence (AGI) – machines that can fully replace every aspect of human competence.
Trade accordingly.
---
More By This Author:
US Corporations Are Filing For Bankruptcy At The Fastest Pace Since 2010
Futures Rise On Optimism Of Imminent Debt Deal
US Futures Jump Led By Record-Breaking Surge In Nvidia
Disclosure: Copyright ©2009-2023 ZeroHedge.com/ABC Media, LTD; All Rights Reserved. Zero Hedge is intended for Mature Audiences. Familiarize yourself with our legal and use policies every ...
more