Nokia To Slash Up To 10,000 Jobs As It Prepares To Dominate 5G Race
Nokia on Tuesday announced plans to "reset" its cost bases and invest in R&D and expand future capabilities in 5G technology, cloud, and digital infrastructure. The restructuring initiative includes Nokia slashing up to 10,000 jobs over the next two years.
The Finnish telecommunications equipment expects to reduce its corporate footprint from 90,000 employees to 80,000 to 85,000 over an 18 to 24-month period. This will allow it to trim 600 million euros ($715 million) off its cost base by the end of 2023. The decision comes as the company pivots to 5G in a massive bet to turnaround sliding revenue. After taking over last year, Chief Executive Pekka Lundmark plans to reset their cost bases and heavily invest in R&D to expand 5G across Europe.
Lundmark has previously said he'll "do whatever it takes" to regain 5G market share and become a market leader.
"Nokia now has four fully accountable business groups. Each of them has identified a clear path to sustainable, profitable growth and they are resetting their cost bases to invest in their future," Lundmark said in a statement on Tuesday.

"Each business group will aim for technology leadership. In those areas where we choose to compete, we will play to win. We are therefore enhancing product quality and cost competitiveness, and investing in the right skills and capabilities," Lundmark continued.
Nokia shares faded the gap higher in Helsinki earlier this morning and have since traded flat. The stock is up about 15% year-to-date.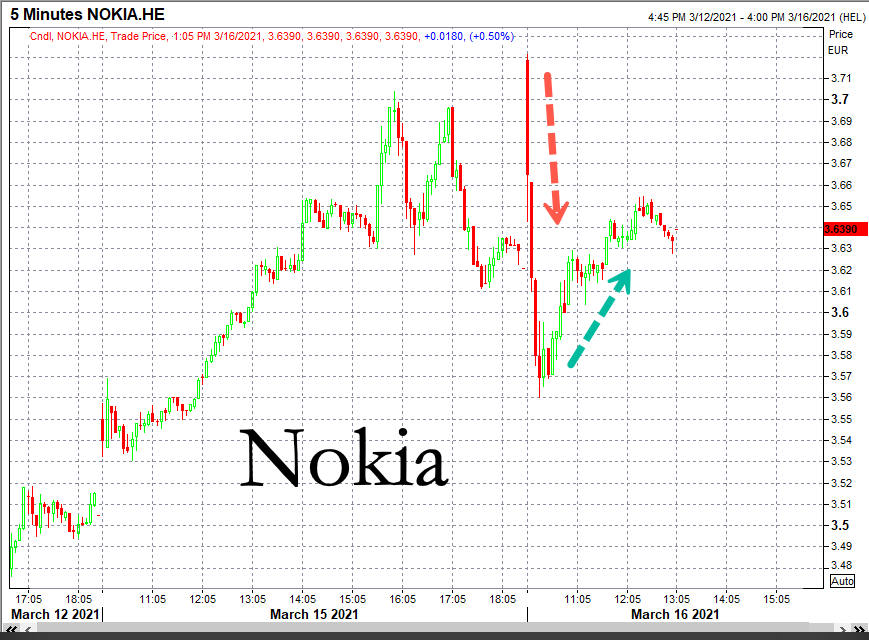 Analyst Kimmo Stenvall at OP Group told Bloomberg that news of Nokia's restructuring "reflects the pace of change in the industry." He said, "the shareholder will be left with nothing, all the proceeds will go toward R&D and developing the company."
Lundmark is gearing up the company for a "sustainable, profitable growth path" where "investments in their future" are being made to become a top player in the 5G space. This comes as Europe becomes the battleground over which companies build out the continents 5G infrastructure to power the "internet of things" and usher in a "fourth industrial revolution."
Disclaimer: Copyright ©2009-2021 ZeroHedge.com/ABC Media, LTD; All Rights Reserved. Zero Hedge is intended for Mature Audiences. Familiarize yourself with our legal and use policies every time ...
more