Nio Stock Price Prediction For 2025
You've probably heard Nio Inc. (NYSE: NIO) is the "Tesla of China." But that might not be giving Nio enough credit. Once you see our Nio stock price prediction for 2025, you'll know why.
Tesla Inc. (NASDAQ: TSLA) climbed as much as 510% in the year 2020, from $130 to a peak of $793. Nio stock soared 1,407% in the same time, from $3.78 to a high of $57.
While Tesla came out swinging six straight months of profitability and new factories in China and Germany, there's a chance this growth was too much, too soon.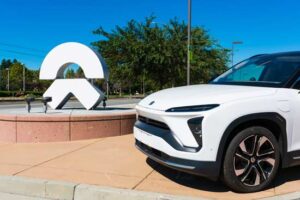 Nio, while sharing many attributes with Tesla, is almost a perfect contrast. It's more equipped to handle an uncertain future, building a reliable foundation for its business rather than building hype around its brand.
You see, the electric vehicle industry is in for a shake-up. Most first-movers are in for a rude awakening as new EV makers spring up around the world – Ford Motor Co. (NYSE: F), Toyota Motor Corp. (NYSE: TM), and more.
These all stand to chip away at Tesla's market share. In fact, that might have already begun to happen.
Nio is under threat from this as well. But as you will see, the company may be better prepared for it than any other.
That's why our Nio stock price prediction for 2025 has its biggest gains coming in the more distant future.
Don't get us wrong – Tesla has the potential to outsmart legacy carmakers as well. Nio simply might stand a better chance.
Here's why.
Nio Stock Price Prediction for 2025
In the next five years, electric vehicles are going to get a big boost from the green energy movement. Policies worldwide are shifting in that direction – for example, California wants to have gas-powered vehicles completely phased out by 2050. China also keeps extending its subsidies for EVs.
Within the next five years, however, we're going to see improvements to batteries, more charging stations spread across the globe, and new EV producers spring up in the process. BloombergNEF predicts that EVs will make up 10% of passenger car sales in 2025, and that number will grow to 58% by 2050.
Disclaimer: Any performance results described herein are not based on actual trading of securities but are instead based on a hypothetical trading account which entered and exited the suggested ...
more