Nasdaq Flashes A Stealth Buy Signal: What's Next?
The Nasdaq has just flashed a key signal that points to a bullish change of market character. Here, we briefly share our analysis on the Nasdaq chart, and a top relative strength sector to buy.
After a rough start to the first half of 2022, stock market conditions are improving so far in Q3.
For starters, the Nasdaq is now trading above its 20-day exponential moving average.
As explained in How to Know When it's Time to Start Buying Stocks Again, a move above the 20-day EMA is a reliable signal to know when an index may have bottomed.
However, Nasdaq's bullish price action of July 13 and 14 is what really caught our attention!
On both days, the Nasdaq Composite gapped sharply lower on the open but reversed to close near the intraday high.
In the process, the Nasdaq successfully defended the higher low that formed around 11,000 several weeks ago:
(Click on image to enlarge)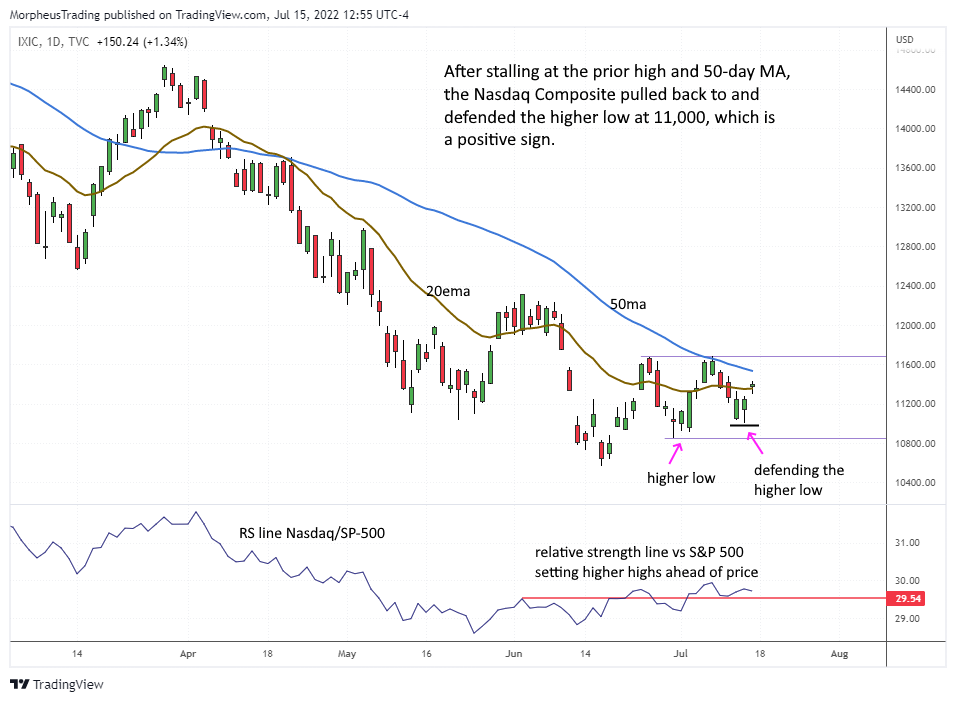 The price action of July 13 and 14 was important, as the Nasdaq could have easily gapped down and rolled over–but it did not!
This indicates a definitive change of character in the stock market (at least in the short to intermediate-term).

Has the Nasdaq bottomed out?
Technical market conditions are clearly improving in the short to intermediate term, but it's impossible to predict if a longer-term bottom has formed.
Further, our proven swing trading strategy is designed to react to, NOT predict market trends.
That's why the analysis in our swing trading report is just one day at a time.
Although market conditions are improving, Nasdaq still has quite a bit of work ahead.
The Nasdaq must first prove it can hold above its newly reclaimed 50-day MA.
Next, the tech-heavy index must overcome resistance of its prior swing high (11,800 area).
If it fails to do so, then we could be in for more choppy price action within the month-long base of consolidation.

Emerging leadership in the Healthcare sector
If the stock market is headed higher, it's important to focus on top relative strength sectors and emerging leadership.
The Healthcare sector has started showing new leadership, with S&P Biotech ETF (XBI) setting higher highs and higher lows above its 50-day MA.
$XBI is clearly showing relative strength, as the Nasdaq and S&P 500 have not yet set higher highs.
The S&P 500 is still below its 50-day MA as well.
Below, notice that $XBI is now trading in a tight range after a strong thrust up:
(Click on image to enlarge)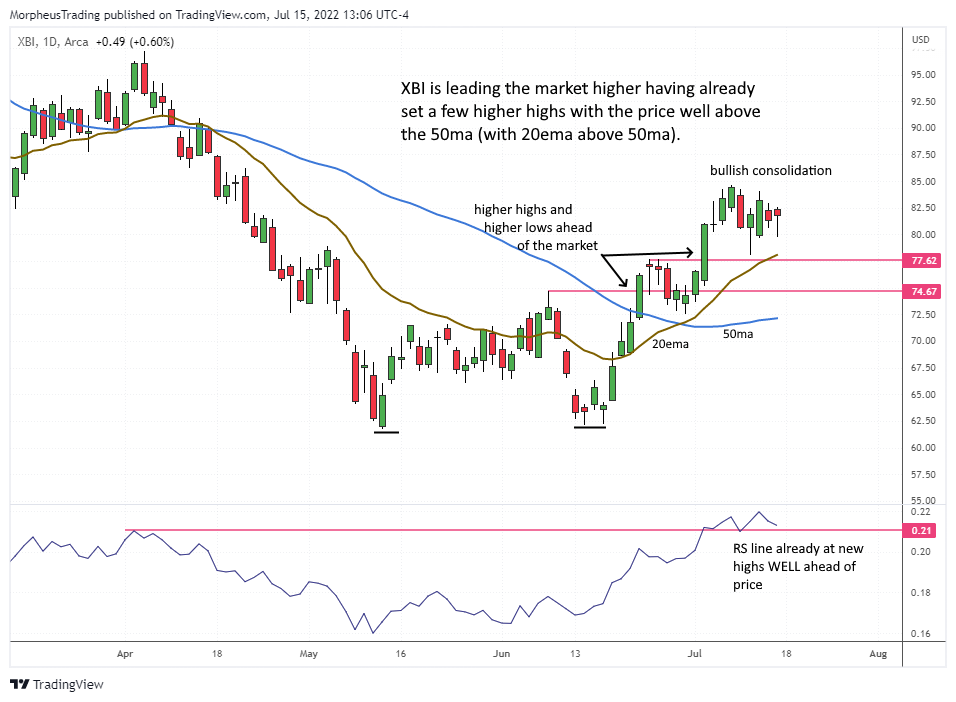 Above, note the relative strength line (RS line) vs the S&P 500 has already broken out to new highs ahead of price.
Along with pattern relative strength, the RS line is a quick and easy way to help spot the strongest stocks in the market (learn more about relative strength trading).
After spotting relative strength in Healthcare, we began scanning for the best stocks to buy in the sector.
In our nightly newsletter, The Wagner Daily, we are already long medical products stock Lantheus Holdings (LNTH).
LNTH has been trading in a fairly tight range over the past few weeks and is one of the few stocks that remained in an uptrend through the first half of 2022.
We initially bought LNTH after it pulled back to 50-day MA support on July 11.
The buy entry was based on the big volume breakout above the 50-day MA on July 8.
We then added to the position on July 14, as LNTH pushed through the $68 pivot area:
(Click on image to enlarge)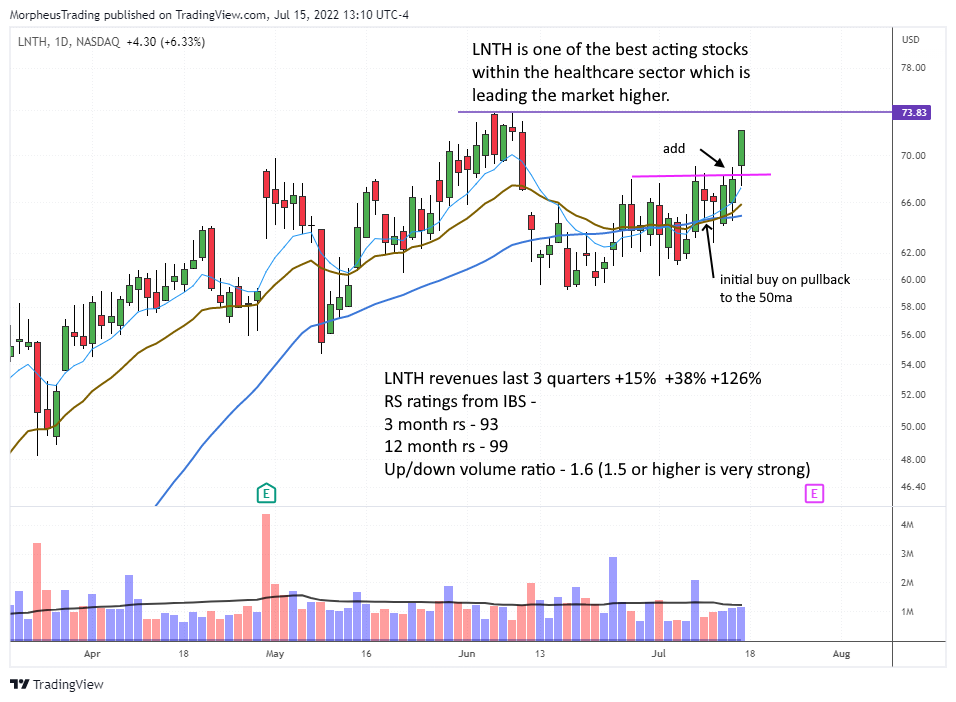 In addition to LNTH (already long), United Therapeutics (UTHR) and ShockWave Medical (SWAV) are both listed in the Watchlist section.
---
More By This Author:
How To Know When It's Time To Start Buying Stocks Again
5 Best Crypto Swing Trade Setups for Potential Buy Entry Now
Wheat ETF Breakout: How To Benefit From Surging Food Prices
Disclaimer: Past results are not necessarily indicative of future results. There is a high degree of risk for substantial losses in trading securities. All data and material on this website ...
more