Microsoft: ChatGPT Is A Game Changer
Source: Unsplash

Microsoft Corporation (MSFT) has confirmed a 'multibillion-dollar investment' in ChatGPT maker OpenAI, making its greatest bet in artificial intelligence (AI). The rationale behind the deal is that OpenAI is a technology that has the potential to completely change Microsoft, enabling it to create new "productivity" software alongside its Office programs and even relaunch its struggle for market share against Google in search.

Microsoft's Ticket To The AI World
According to reports, Microsoft has made a new investment in OpenAI, the creator of the column-inch pilfering Chatbot GPT, pouring billions into the company. The announcement comes just a few days after OpenAI announced that its ChatGPT tool would soon be available as an API and would be decided to add to Microsoft's Azure cloud services. OpenAI has raised $1 billion, with the most recent round raising another $10 billion from Microsoft, at a $29 billion valuation. OpenAI will deploy the funds to expand its AI research and development capabilities and build its cloud-based AI services. Favorably, Microsoft's solid financial position allows it to take risks and invest in cutting-edge technologies, which will help it to stay ahead of its competitors.

OpenAI's Numbers Are Encouraging
According to Reuters, which cited sources informed on OpenAI's recent investor pitch, the San Francisco-based company anticipates sales of $200 million in 2023 and $1 billion in 2024, implying a staggering 5x increase. By charging developers a license fee to use its technology to produce text and images, OpenAI generates substantial revenue.
ChatGPT has been an enormous success, with GPT-3's natural language processing abilities being widely recognized, as seen in its adoption by major tech companies like Microsoft and IBM, as well as in multiple industries such as finance and healthcare. In addition, GPT-3's ability to generate human-like text and perform various tasks, such as summarization, translation, and question-answering, has made it a valuable asset for many businesses and organizations.
The ChatGPT bot, fully published earlier this week, attracted 1 million users in its first five days of operation. To put it into perspective, Instagram reached one million users in 2.5 months, but it took ten months for Facebook, two years for Twitter, and 3.5 years for Netflix, demonstrating the strong demand and excitement toward AI.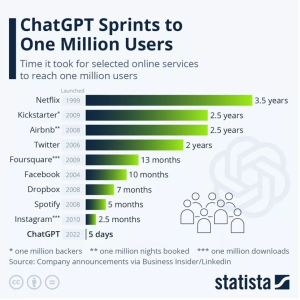 Source: statista.com
Microsoft's cloud-based AI services are essential to its revenue growth, but it is also facing increased competition. Alphabet Inc (GOOG) and Amazon.com, Inc. (AMZN) are investing heavily in developing cloud-based AI services and are already offering similar services to OpenAI. In order to maintain its competitive edge, the company will have to continue to innovate and differentiate its services. One way it can do this is by investing in research and development to improve its AI services and to develop new AI-based products and services. In addition, OpenAI can also focus on expanding into new markets and industries, such as the automotive and manufacturing sectors, with a growing demand for AI solutions.

OpenAI relies on Microsoft Azure's virtualized environment to provide the scale and performance needed to conduct AI training and inference workloads. In addition, the systems of ChatGPT are based on high-performance computing, data storage, and public infrastructure and services. In addition, Microsoft Azure supports the extensive language model technology from OpenAI, based on AI. As a result, all of OpenAI's workloads, including research, products, and API services, are supported by Azure's processing, memory, and databases.
The partnership between OpenAI and Microsoft Azure allows OpenAI to take advantage of Azure's powerful cloud computing resources to train and deploy its AI models, including ChatGPT. The most notable OpenAI models include Dall-E 2 for realistic image generation and modification, GPT-3 for human language synthesis, and Codex for generating code in various computer languages.
GPT-3 is like having your writing assistant. It's a technology that can understand and generate human-like language. It can write anything from essays to emails, articles, and even books. With GPT-3, you can create content that is so realistic it's hard to tell a machine wrote it. It's like having a team of expert writers at your fingertips, ready to help you with anything you need. ChatGPT is a variant of GPT-3 that uses a smaller set of neural network settings.
Codex is a clever little system that helps software developers write code quickly and efficiently. Think of it like a personal assistant for coding, and it suggests lines of code and entire functions help you along the way. GitHub may produce code snippets called Codex. GitHub is an essential example of a website owned by Microsoft that developers utilize.
Users of the image-generation tool Dall-E 2 may produce art from text strings. Microsoft Designer uses the new visual design tool Dall-E 2 to create products like photos, icons, drawings, and infographics.

Microsoft's Valuation Remains Attractive
For the entire year, analysts predict an increase in earnings and revenue of 4% and 7%, respectively. In addition, they forecast a 13% and 17% increase in revenue and earnings for the company in the fiscal year 2024. These projections, which do not account for a possible acquisition of Activision Blizzard, indicate that the macro headwinds will eventually weaken. However, Microsoft had about $100 billion in cash, cash equivalents, and short-term investments at the end of the second quarter, giving it plenty of room to add to its investment portfolio, increase share repurchases, or raise its dividend. At 26.7 times forward earnings, MSFT stock may not appear to be a screaming deal, but it is still a wise purchase for long-term investors who can ignore all the short-term chatter about a strong currency and a weak economy.
Disclosure: I have no stock, option or similar derivative position in any of the companies mentioned, and no plans to initiate any such positions within the next 72 hours.
These are entirely the ...
more