Metal Boom: Copper Hits 10-Year High Amid Supply Constraints And Infrastructure Plans
Copper futures hit their highest levels in ten years on Monday as several factors, including supply concerns, a weaker dollar, the Biden administration's plan to improve infrastructure, growth in renewable energy, and China's increasing demand, continue to fuel expectations of higher demand for the industrial metal.
The dollar continues to edge lower Monday amid speculation Federal Reserve Chairman Jerome Powell will not announce tapering at this week's meeting, fueling higher copper prices.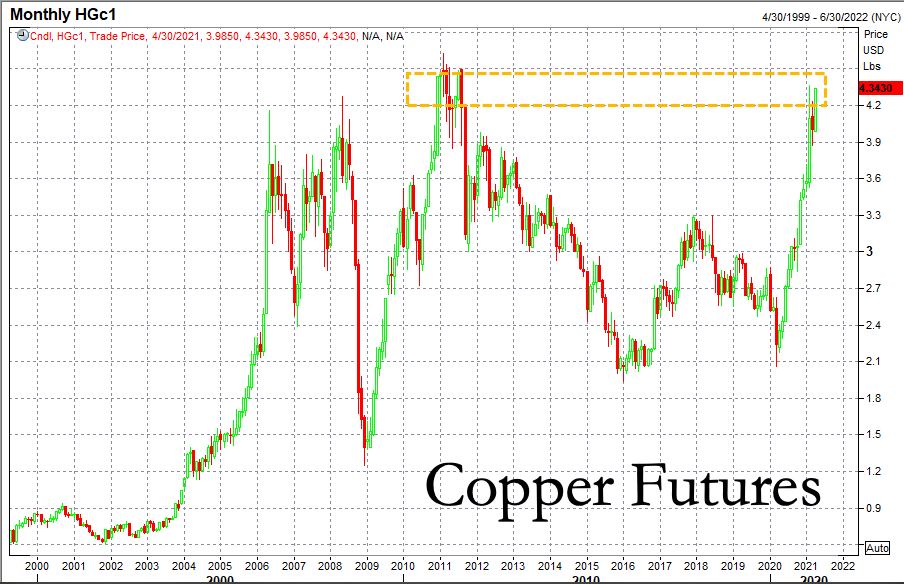 Meanwhile, traders are concerned about supply due to a strike in Chile.
"We are in for a good run higher as we are having supply issues. Chilean port workers threatening to strike, which is a short-term issue, but will cause some trouble for shipments into China in an already tight concentrate market," commodities broker Anna Stablum of Marex Spectron told Reuters.

"We are seeing some concerns about supply cuts in China due to environmental pressures," Stablum added.
The resilience of copper prices suggests industrial use for copper in China continues.
The push for a massive infrastructure overhaul in the US has provided support for copper. The Biden administration proposed infrastructure investments of hundreds of billions of dollars to fuel growth in renewable energy.
When it comes to renewable energy, copper plays a huge role in renewable energy technology, given its conductivity characteristics.
On top of renewables, a shift towards a digital economy and rising demand for electronics to support the remote work lifestyle adds additional support to copper prices.
"Technology, semiconductors, data centers, and cellular towers all require significant copper usage," Rob Haworth, senior investment strategist at US Bank Wealth Management, told MarketWatch.
Meanwhile, "we have not seen an investment in new copper supply over the past few years, which means users have been competing for the relatively scarce supplies of copper, leaving price as the arbiter of who receives this supply," Haworth said. "Mine development is a long-term activity, leaving us with a tight market for some time."
Disclaimer: Copyright ©2009-2021 ZeroHedge.com/ABC Media, LTD; All Rights Reserved. Zero Hedge is intended for Mature Audiences. Familiarize yourself with our legal and use policies every time ...
more