E

Mercado Libre: It Is Not Too Late To Join The Party
MercadoLibre (MELI) is expected to deliver colossal revenue growth next year, and the market estimates it will be growing exceptionally well in the following years.
Mercado Libre has 3 key factors pushing it higher, the shift towards e-commerce, Amazon´s troubles reaching Latam, and its ability to integrate an offering similar to Etsy in its platform. Despite trading at a high premium and with significant risks, it is worth getting this stock now.
Will it survive Amazon?
Mercado Libre operates in 18 countries: Brazil, Argentina, Mexico, Chile, Colombia, Peru, Uruguay, Venezuela, Bolivia, Costa Rica, Dominican Republic, Ecuador, Guatemala, Honduras, Nicaragua, Panama, Paraguay, and El Salvador.
Of these countries, Amazon (AMZN) only operates in Mexico and Brazil. While Amazon does not provide country-specific sales numbers, the international sales growth is around 37%, while Mercado Libre is growing at a much higher rate in Mexico and Brazil.
(Click on image to enlarge)

Source: Investor Relations
While this comparison does not provide sufficient detail to determine each in the region's market share, however, some reports suggest that Mercado Libre is beating Amazon in Brazil. At the same time, in Mexico, it is a much tighter race.
(Click on image to enlarge)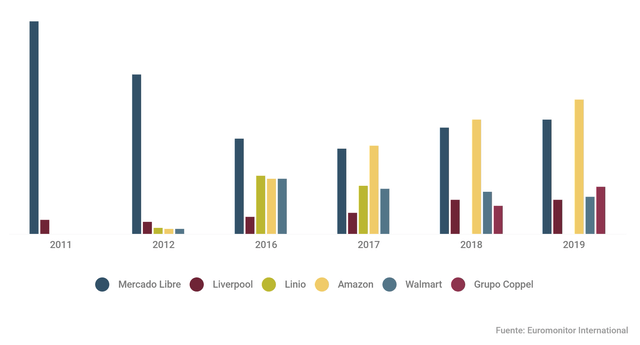 Source: ELCEO
The chart above shows that Amazon is pulling ahead of Mercado Libre in Mexico. Amazon entered the Mexican market in 2015 and the Brazilian market in late 2017; this difference in the time provided Mercado Libre more time to consolidate its leadership position in Brazil, which bodes well for Mercado Libre´s chances of keeping the lead in the rest of Latin America.
As e-commerce grows in Latin America, the company is likely to thrive and may be able to perform on the high side of the estimates.
The Other Moat
Mercado Libre has been in the region for many years, and its strategy has been focused on bringing small firms to the platform. This has created an offering similar to Etsy's(ETSY) within its platform without excluding big companies. Big vendors in Mexico or Brazil might find it easier to integrate their supply chain with Amazon, but small firms are unlikely to put their products on Amazon instead of Mercado Libre as Amazon is less friendly for those firms.
Disclosure: I am long MELI, AMZN