EC

Making Sense Of Q2 Earnings Season Expectations
Estimates have been steadily going up, as we have been consistently pointing out in our earnings commentary, though the favorable revisions trend has eased off in recent weeks. The chart below shows earnings growth expectations for 2021 Q2 have changed since early January: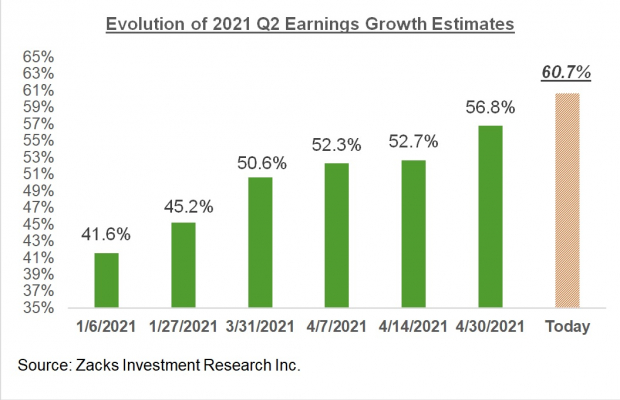 Given how strong earnings surprises turned out to be in the preceding reporting cycle (2021 Q1), the final earnings growth tally for 2021 Q1 could be as high as +80%.
The chart below takes a big-picture view of the quarterly earnings and revenue growth pace: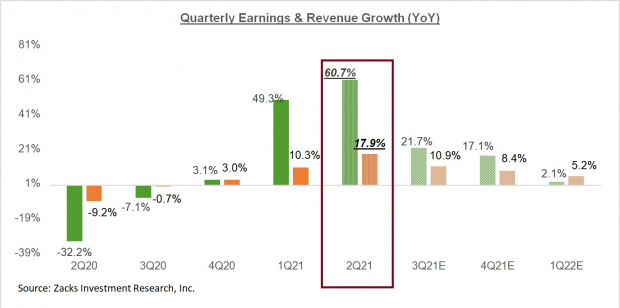 The chart below presents the big-picture view on an annual basis. As you can see below, 2021 earnings and revenues are expected to be up +35% and +10.5%, respectively, which follows the Covid-driven decline of -13.1% in 2020: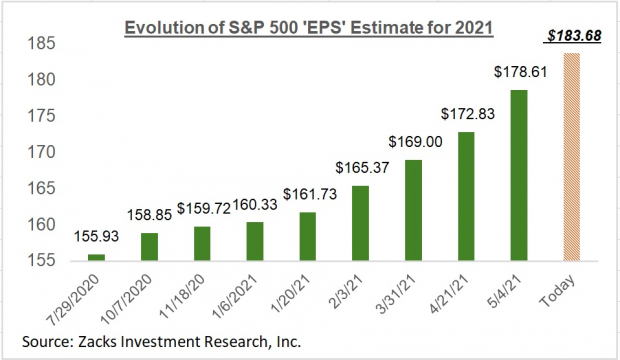 On an index 'EPS' basis, the 2021 expectation works out to $183.68, up from $136.04 per 'Index share' in 2020.
These full-year estimates have been going up as well, as the chart below shows: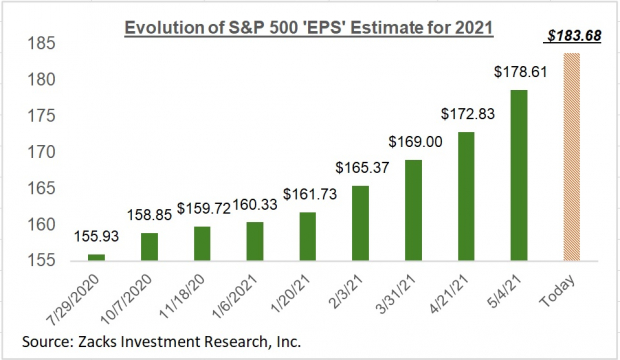 Key Reports This Week
The Q2 reporting cycle will really get going July 13th, as JPMorgan (JPM - Free Report) and the other major banks come out with their fiscal June-quarter results. But we (and other data aggregators) count the start of this and other earnings season(s) a little differently. From our standpoint, the Q2 reporting cycle got underway with companies reporting results for their fiscal quarters ending in May.
We have already seen such May-quarter results from 5 S&P 500 members, including Costco (COST - Free Report) and Oracle (ORCL - Free Report) , with another 7 index members on deck to report results this week. FedEx (FDX - Free Report) and Nike (NKE - Free Report) are the notable reporters this week, both reporting after the market's close on Thursday, June 24th.
We are off to a great start with the 5 S&P 500 members that have reported results already. Total earnings for these 5 companies are up +32.4% from the same period last year on +19.6% higher revenues, with all 5 companies beating EPS and revenue estimates.
For a detailed look at the overall earnings picture, including expectations for the coming periods, please check out our weekly Earnings Trends report >>>> more