Major Bull Market In Canadian Cannabis Stocks To Continue
TM editors' note: This article discusses a penny stock and/or microcap. Such stocks are easily manipulated; do your own careful due diligence.
The Canadian marijuana landscape is about to change [considerably] in 2017.Canada's government is in the process of allowing recreational marijuana across the country next year, so the number of customers the licensed producers can sell to should increase significantly by multiple folds in 2017 and 2018...increasing their sales [dramatically] over the next few years [as a result]...
By Vin Maru (InvestInMJ.com)
According to the Marijuana Index Canada - consisting of 10 publically traded Canadian companies in the space - the Canadian cannabis sector, [has had] a parabolic rise in share price since May of this year [see chart below, and,] with a clear break...[through] overhead resistance...We are [clearly] in a new bull market for cannabis stocks in Canada.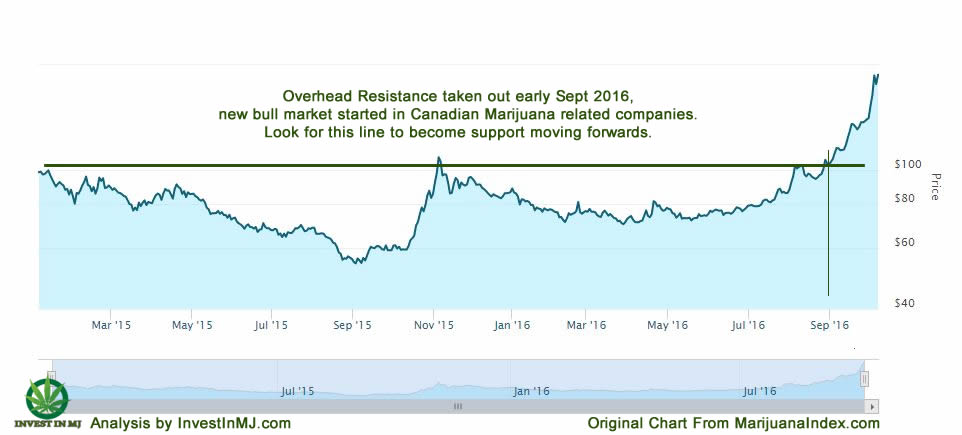 As of October 17, 2016 here are the companies in Canada listed in the MJ index, their current share price and market cap.
Name / Symbol
Aphria Inc APHQF
Aurora Cannabis Inc. ACBFF
Canopy Growth Corporation TWMJF
Golden Leaf Holdings Ltd. GLDFF
Maple Leaf Green World Inc MPEFF
Mettrum Health Corp MQTRF
OrganiGram Holdings Inc OGRMF
PharmaCan Capital Corp PRMCF
Supreme Pharmaceuticals SPRWF
THC Biomed Intl Ltd THCBF
I suspect the share prices of the above companies could come down over the next few months and probably into tax selling season in December. If you have made any good profits in the last year with any of the...[above] companies you may want to take some money off the table and look to buy back into the sector after a correction and pullback if you are looking to trade them.If you are a long time investor, buy them on any dips and hold them over the next 2 – 5 years. This is just the beginning of the next major advance that the sector and stocks will make.
This article may have been edited ([ ]), abridged (...) and/or reformatted (structure, title/subtitles, font) by the editorial team of munKNEE.com (Your Key to Making Money!) to provide a faster ...
more