Lyft Soars After Beating Estimates; On Verge Of Cashflow Breakeven
With the world slowly emerging from the covid pandemic, ridesharing services are seeing an impressive return to normalcy as the just-released results from LYFT showed.
After seeing its revenue crash as much as 61% in the first full post-covid quarter, moments ago Lyft reported that in Q1 2021, earnings were down 36% from a year ago (and up 7% from Q4), the smallest decline in a year, even if total revenues of $609MM (which beat exp of $557.3MM) were still some $350MM shy of the $955MM it made a year ago, thanks to 13.5 million active riders, above the estimated 12.7 million.
Some more Q1 earnings details:
Adjusted net loss for Q1 2021 was $114.1 million versus an adjusted net loss of $97.4 million in the first quarter of 2020.
Contribution Margin of 55.4% exceeded the company's outlook of 51.0% to 51.5% and was just 10 basis points below Q4'20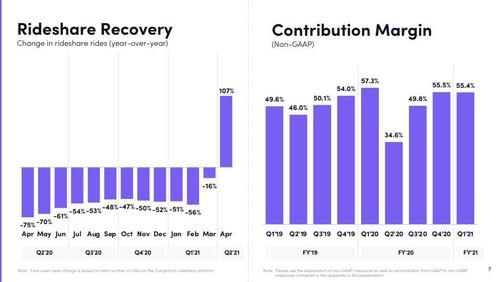 Lyft reported Contribution for Q1 2021 of $337.3 million versus $547.4 million in the first quarter of 2020, down 38 percent year-over-year but up 7 percent from $316.0 million in Q4 2020. Contribution Margin for Q1 2021 was 55.4 percent, which was down by 1.9 percentage points year-over-year but down by just 10 basis points quarter-over-quarter. Contribution Margin for Q1 2021 exceeded the Company's outlook of 51 to 51.5 percent1.
Active Riders increased 8% quarter-over-quarter to 13.5 million driven by the return of riders and new rider activations, especially in March
Revenue per Active Rider of $45.13 was down just 1% versus Q4'20, and up 7 cents vs. Q1'20

Lyft reported $2.2 billion of unrestricted cash, cash equivalents and short-term investments at the end of the first quarter of 2021, roughly unchanged on the quarter.
But what was most impressive, was the remarkable improvement in EBITDA, which shrank to just a loss of $73MM, nearly half the expected loss of $143.5MM, and on pace to turn cash flow positive despite still generating well below pre-covid revenues.
Disclosure: Copyright ©2009-2021 ZeroHedge.com/ABC Media, LTD; All Rights Reserved. Zero Hedge is intended for Mature Audiences. Familiarize yourself with our legal and use policies ...
more