Lucid Stock Prediction 2025: 936% Revenue Growth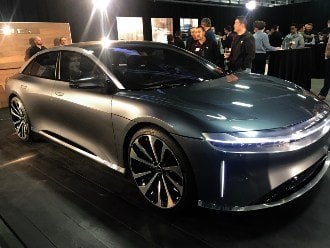 Most EV companies post bold numbers to increase investor and consumer interest. Many of them might even refer to themselves as "Tesla Killers" with nothing to back it up.
But Lucid Group Inc. (NASDAQ: LCID) seems different. This company is the product of a SPAC merger with Churchill Capital Corp. (NYSE: CCIV), one of the most talked-about to date, billed as the largest SPAC deal ever for an electric vehicle stock, at $12 billion.
Early in 2021, management provided its own five-year CCIV stock prediction. The difference between Lucid and the EV flops in the past is that it has a product, at least. More importantly, the experts have good things to say about it.
MotorTrend recently highlighted Lucid for greater battery efficiency than the Tesla Model S as well as a cost-effective powertrain developed in-house. So, we see the technology impresses the industry, and production looks tenable.
Do these factors make Lucid a "Tesla Killer" though?
Lucid Stock Performance After the SPAC Merger
CCIV stock popped 540% when rumors of the merger hit, going from $10 to $64. It quickly tanked and leveled off in the $20 range, but months later, we're starting to see new bearish momentum.
New shares were just released from lockup. On Aug. 31, shares dropped 15%, from $19 to $16 in a single day.
You see, IPOs and SPAC mergers usually involve a "lockup" period to prevent early-stage PIPE investors from piling their shares into the market and quickly diluting the price. Unfortunately, this sometimes becomes a matter of putting pain off for later.
Here, we see a case of the early CCIV investors taking profits on the $15 shares they bought earlier. Unfortunately, they only took home a couple bucks per share, fractions of what they would have made many months before.
Shares rallied back to $18, however, and Lucid appears to have plenty more in the tank. If the company can only manage to pass a couple specific milestones, it will prop up the long-term "buy" case for Lucid stock.
Disclaimer: Any performance results described herein are not based on actual trading of securities but are instead based on a hypothetical trading account which entered and exited the suggested ...
more