Look For These 5 Energy Stocks To Raise Dividends In January
Now that the book is closed on 2019, next up for the stock market will be individual company earnings reports for the fourth quarter and full year. I recommend dividend-paying stocks based on the fundamental strengths if the underlying businesses. Earnings reports are the four times a year when investors get to see real results, including revenue, profits, and free cash flow.
One leading indicator of the actual earnings news will be any dividend announcements that are sent out before the earnings release date. The practice of early dividend announcements is prevalent in the energy midstream sector.
Since I focus on dividend-paying stocks, the early January dividend announcements give me a peek on how individual midstream company management teams feel about their business prospects. The dividends declared by the bellwether companies in the sector give an early snapshot of what to expect when earnings come out a couple of weeks later.
Here are five companies whose upcoming dividend announcements may portend good or not so good news when earnings are released and for the remainder of 2020.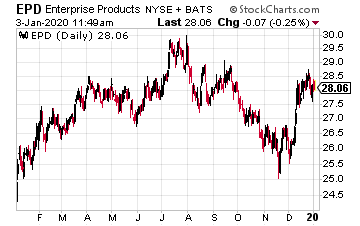 Enterprise Product Partners LP (EPD), with a $61 billion market cap is the largest midstream company organized as a master limited partnership (MLP).
EPD has increased its dividend every quarter for 61 straight quarters. In late 2017, the company lowered its dividend growth rate from a 5% annual rate down to a 2.5% annual growth rate. The move was to retain cash flow to fund growth projects.
A boost in the EPD dividend growth rate would be a strong positive for the MLP sector. The next dividend will be announced on about January 15. EPD currently yields 6.2%.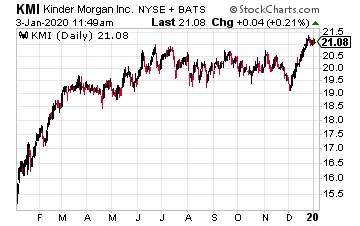 Kinder Morgan Inc. (KMI) slashed its dividend by 75% to start 2016, which was the bottom of the energy sector crash. The company restarted dividend growth in 2018 with a 60% increase.
For 2019, Kinder increased the dividend by 25%. Management has stated they expect a similar increase for 2020. Kinder Morgan was one of the first midstream companies to give up on the MLP business structure.
Disclaimer: The information contained in this article is neither an offer nor a recommendation to buy or sell any security, options on equities, or cryptocurrency. Investors Alley Corp. and its ...
more