Lockup Expiration Is A Bad Prescription For GoodRx
March 22, 2021 concludes the 180-day lockup period of GoodRx Holdings Inc. (GDRX).
Source: https://www.goodrx.com/
When the lockup period ends for GoodRx, its pre-IPO shareholders and company insiders will have the opportunity to sell millions of currently-restricted shares.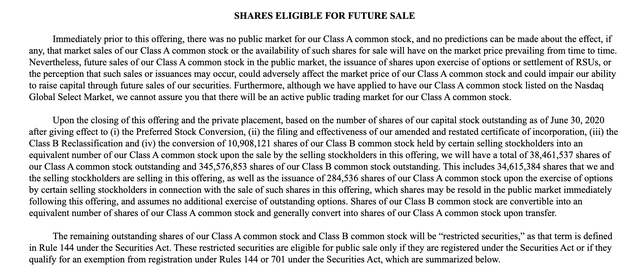 The potential for a sudden increase in stock flooding into the secondary market may negatively impact the share price of GoodRx.
Currently, GoodRx trades in the $36 to $37 range, a return from IPO of nearly 12%.
Business Overview: Provider of Telemedicine Platform
GoodRx began as an online tool to compare prescription prices. Today, the company offers a variety of telemedicine services across its expanded platform including medical provider consultations and other health related services and information.
Users access the platform from either a mobile app or their website. GoodRx tracks the prices of prescription drug prices in the U.S., and it offers free coupons for discounts on the medications. Its platform monitors over 75,000 pharmacies, and as of February 2020 had over 14 million online visitors per month.
The company was founded in 2011 in California. GoodRx partnered with major drug companies in 2017 to secure lower prescription medication costs. In 2019, the company acquired HeyDoctor, which is a telemedicine provider. HeyDoctor was rebranded to GoodRx Care. The GoodRx platform enables individuals to meet with a physician online and get a prescription for certain medications starting at $19 regardless of insurance. In addition, the platform offers medical testing services.
As of the second quarter of 2020, GoodRx had 15 million monthly active users. The company reports that its services saved consumers approximately $20 billion through June 2020. GoodRx has been the most downloaded mobile app in the Google Play Store and the Apple App Store for the last 3 years. The app rating in the Apple Store is 4.8 out of 5.0 stars. Its rating in the Google Play Store is 4.7 out of 5.0 stars. The app has more than 700,000 ratings across both stores. The HeyDoctor app is rated 5.0 out of 5.0 stars and more than 8,000 reviews.
Disclosure: I am/we are short GDRX.
Disclaimer: I wrote this article myself, and it expresses my own opinions. I am not receiving compensation for it. I have no business relationship with any ...
more